Hampshire and Isle of Wight Air Ambulance received an emergency call on the morning of Tuesday 8th November 2016. Andrea needed help and the Critical Care Team flew to her aid.
Andrea and her husband have been married for 46 years and live in North Hampshire.
Andrea worked as a Personnel Officer at an army training camp and her husband spent many years working as a Service Manager for a property agency looking after MOD sites, until they both retired in 2011 and 2007 respectively.
Tuesday 8th November 2016 was the start of a normal day, but things quickly changed when Andrea began feeling tired. Her husband remembers:
"I had my morning cup of coffee and was watching the breakfast news when Andrea arrived home after a workout at her local gym. She told me she felt tired and was going to go for a lie down.
"She was sitting down at the time and I think that if she had gone upstairs for a sleep, she would have died. As it happened, I left the room momentarily and when I came back I knew something wasn't right. She was staring straight through me. Her eyes had glazed over.
"The next thing I knew, Andrea gurgled and slumped forward. She started having a seizure.
"Luckily, the first aid training session I recently had with St John's Ambulance kicked in and I managed to get her on to the floor in the recovery position. I checked her pulse and breathing, and ensured her airways were clear before calling 999.
"As I was waiting on the phone I couldn't remember if I had to do CPR to Nelly the Elephant or Staying Alive!
"A paramedic arrived within about 5 minutes and I felt relieved. But then he called for the Air Ambulance and I was worried that something was radically wrong. He was concerned she was having a stroke.
"Just 15 minutes later, Hampshire and Isle of Wight Air Ambulance landed on North Warnborough Football field, near to our home, and another ambulance arrived soon after. Suddenly we had 7 paramedics, ambulance staff and doctors all in our living room, tending to Andrea.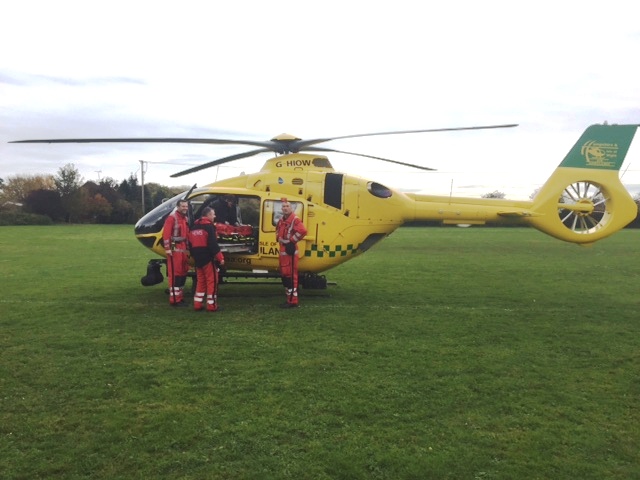 "The Air Ambulance doctor asked Andrea to raise her arms, and whether she could touch her nose – he was checking to see if she'd had a stroke. He was speaking to her and she was responding; you wouldn't have thought anything was wrong. But she can't remember any of that.
"I was glad the Air Ambulance was there – the team were fantastic. The Air Ambulance doctor quickly established that it probably wasn't a stroke and so she should be taken to Basingstoke and North Hampshire Hospital for tests and treatment.
"At the hospital, they established that she had Septicaemia and she was treated with intravenous antibiotics.
"We were very lucky really. Sepsis can knock out the lungs, kidney, heart and brain. We were very lucky it didn't do any of that."
Andrea told us "I'd never had a seizure before, I'd always been fairly fit and healthy, so this was out of the ordinary. I don't remember anything that happened that day or in the days after."
After 7 days of treatment, Andrea was discharged from hospital. The cause of the Sepsis remained a mystery until Andrea began feeling excruciating pain in her upper back and shoulders. After months of further tests and scans, it was eventually revealed that one of Andrea's vertebrae had disintegrated and there was an inflammation around it, pressing on her spinal cord. A bacteria had travelled through her body and lodged in her T4 spinal area.
It took 18 months for Andrea to fully recover and begin to live a normal life again.
Andrea told us "I'm back at the gym now and enjoying going out for lunch with my friends. My husband and I have had a holiday and we're busy looking after the grandson! We like to take him for days out during the school holidays and occasionally to Swindon Speedway – that's great fun and we have lots of happy memories there.
"It's been such a long road to recovery, but I am so grateful for the initial support of Hampshire and Isle of Wight Air Ambulance crew especially the doctor as he immediately confirmed that it was not a stroke so no time was wasted in further treatment for that possibility and further investigation into other causes of the seizure was initiated at North Hampshire Hospital far sooner. We now donate monthly to help keep the Air Ambulance flying and saving lives."