My husband (Tim) and I (Ami) have two children, a little boy called Theo who turned three, 2 days before the day of the accident, and a little girl Ella who was 15 months old at the time of the accident. I work as an orthopaedic physiotherapist at St. Richard's Hospital two days a week and my husband is a head teacher of a local school.
It was Wednesday 11th November 2015 and our Son Theo had just celebrated his third birthday. One of his presents was a new blue scooter. We were all looking forward to his birthday party with all his friends on the Saturday. On the Wednesday morning I was just heading over to a friends house for the kids to have a playtime.
We had just got out of our drive way and Theo was about to get on his brand new scooter.  For some reason he had his legs crossed over and the next thing I knew he had lost his balance and fallen over. Due to his legs being crossed, his left foot didn't give way and he just crumpled to the ground and as he did I heard a crack. I knew straight away he had broken something but was still hoping and praying that I had just imagined hearing the crack. Theo was writhing around on the ground and groaning. Normally Theo would stop crying quickly so when the groans continued I knew he had definitely done something bad! I scooped him up and took him back into the house thinking that it was his ankle that he had broken. As I lay him on the sofa I noticed he was grabbing his left thigh and then it dawned on me – he's broken his femur! I couldn't quite believe that a simple fall and awkward crumple to the ground would result in this. Kids fall over all the time! However, being an orthopaedic physiotherapist I know that the smallest falls can result in some awful injuries.
I went into automatic, the adrenaline pumping! The first thing I did was to give him some calpol and get him settled on the sofa. I started to panic a little because I was on my own with him and my 15 month old daughter, who was still in the pushchair just outside the front door.  Theo was as white as a sheet, I had taken his trousers off and his left thigh was huge. I managed to get hold of my mum but she was out on a walk so couldn't come over immediately. Unfortunately my next door neighbour was also out. I initially considered driving over to A&E with the two kids and then realised that I couldn't do that when my son had potentially broken his femur.
I called 999 to get some help as I was alone with the two children. The next thing I knew was the lady on the phone was saying "you can tell your son the helicopter is on it's way". I couldn't believe it, I didn't ever consider that it would be the air ambulance that would come to our rescue!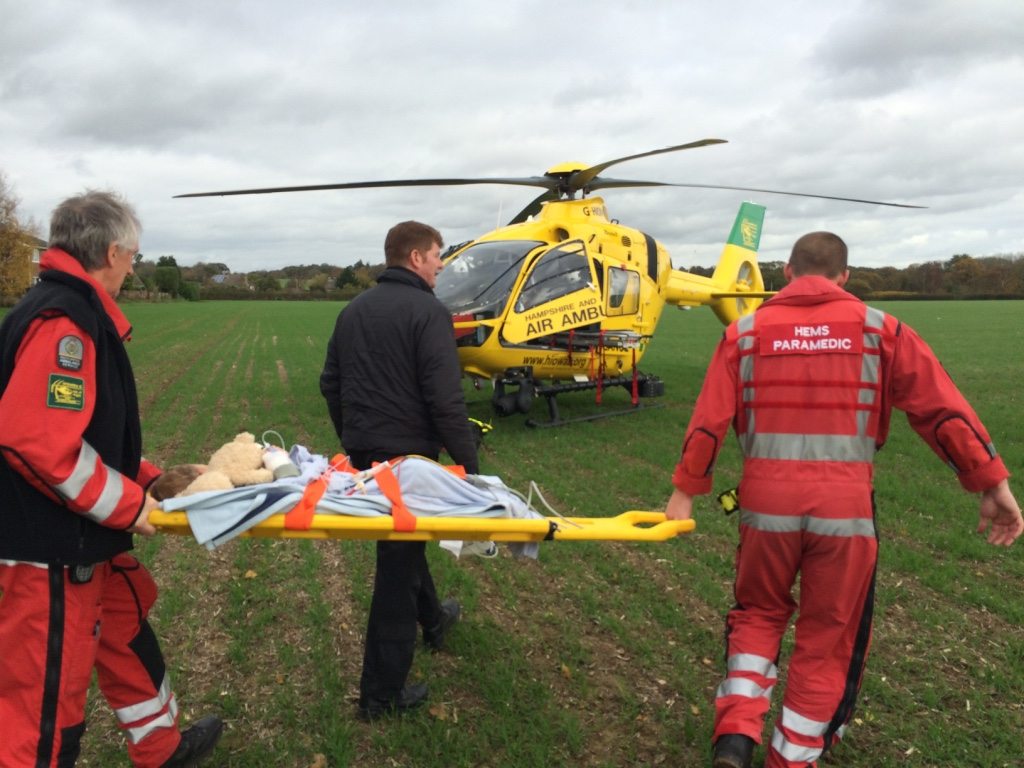 A paramedic arrived within 6-8 minutes of my phone call, quickly followed by an ambulance and two more paramedics and then the air ambulance about 20 minutes later – we could hear it circling for a little while as it was looking for a location to land. Everything just seemed to happen around me and thankfully, all these professionals started to come to my aid.
The Air Ambulance landed in the fields over the back from our house. When we left our house to go to hospital, Theo was stretchered into the ambulance which drove us a couple of roads round the corner and then we had to all go through a neighbours garden and jump over her garden fence into the field where the air ambulance had landed. Such a surreal moment.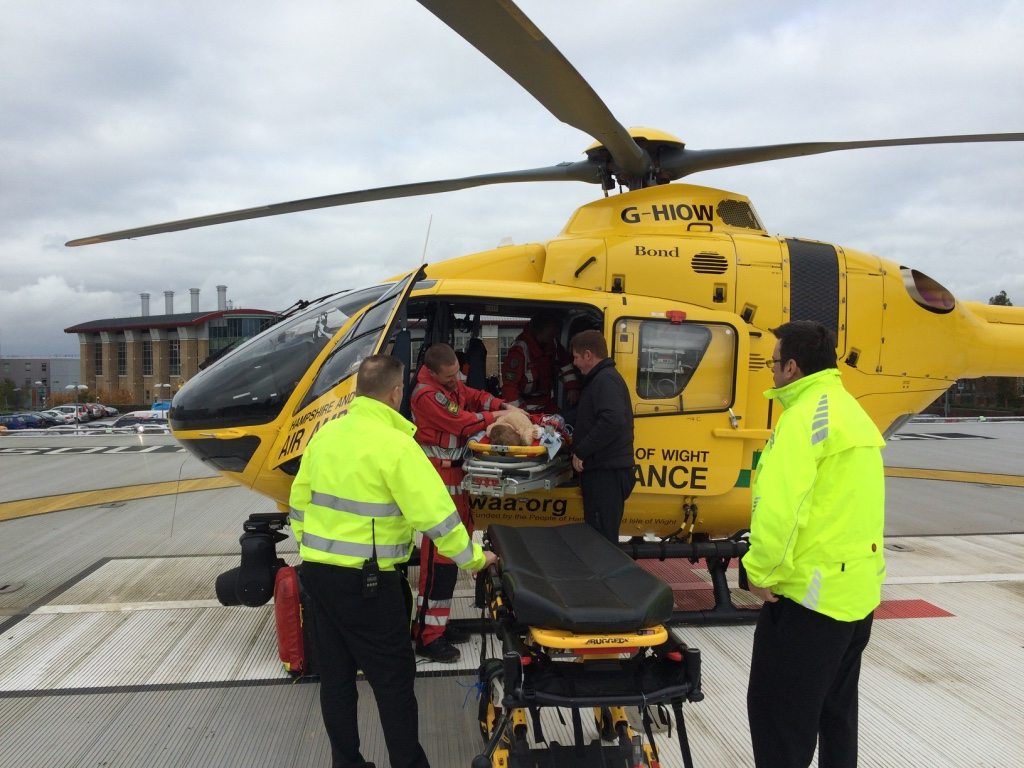 My mum stayed at home with my daughter Ella so I knew she would be fine. I went in the helicopter with Theo which was an experience I thought I would never have. I felt a sense of relief that the professionals were now in charge and that we would be at the hospital quickly.  My husband had been at a meeting in Bournemouth but he was now making his way over to Southampton General Hospital to meet us there.
Without the Air Ambulance we would have had a long, painful, bumpy journey to the hospital in the back of an ambulance, and with the severity of the fracture Theo's femoral artery was at risk. The crew on board were able to cannulate Theo at home and administer morphine promptly, which meant he was a lot more comfortable.
The journey went so quickly; I couldn't believe we were at Southampton within 10 minutes! The Air Ambulance crew were so reassuring and made sure we knew exactly what to do and what was going to happen. Theo found it exciting wearing the headphones and being able to talk to me through the microphone. He was so brave. Thankfully the morphine was taking full effect and he was very calm and as comfortable as he could have been at this time.
After having x-rays in A&E it was confirmed that Theo had a spiral fracture of his left femur. The decision was made to put him into a hip spica cast. Amazingly there was a theatre cancellation that afternoon and so Theo was able to go to theatre under general anaesthetic so that they could reduce the fracture and put him in the hip spica cast. It was difficult to see our little boy going under a general anaestheic but we felt so confident that he was in safe hands.
Theo was in hospital for the following 24 hours.  He was in the hip spica cast for 6 weeks – he was pretty much confined to the sofa, unable to get out in the car because the hip spica cast meant he couldn't fit in his car seat. We had hospital transport for our two follow up clinic appointments. We were able to take him out in the buggy, propping him up with pillows, although this was weather dependent as it was winter.
Theo came out of his cast on 23rd December 2015 – an awesome Christmas present!  We were advised to let him take the lead with his mobility. It took him about 3 weeks to get back walking again. For the first couple of weeks Theo regressed to crawling and furniture walking. Since January he has gone from strength to strength and you wouldn't be able to tell now that he had broken one of the biggest bones in his body!  It's amazing how children can heal so quickly.
I cannot speak highly enough of the service provided by the Air Ambulance;  it was absolutely amazing. I never imagined that one day we would need this service but the day did come and the service came to our rescue. It is due to the Air Ambulance that we were able to get Theo the support he needed as soon as possible.  Theo broke down in tears when he was told he would be coming home in an ambulance and not the helicopter! He still talks about the 'heroes in the helicopter'.
The incident has made us realise that life is so precious and when something happens to a loved one, especially your child, life is put into perspective – it is people that matter. We are so thankful for the NHS and how we were able to access top quality care so quickly that allowed our son to have the best outcome.