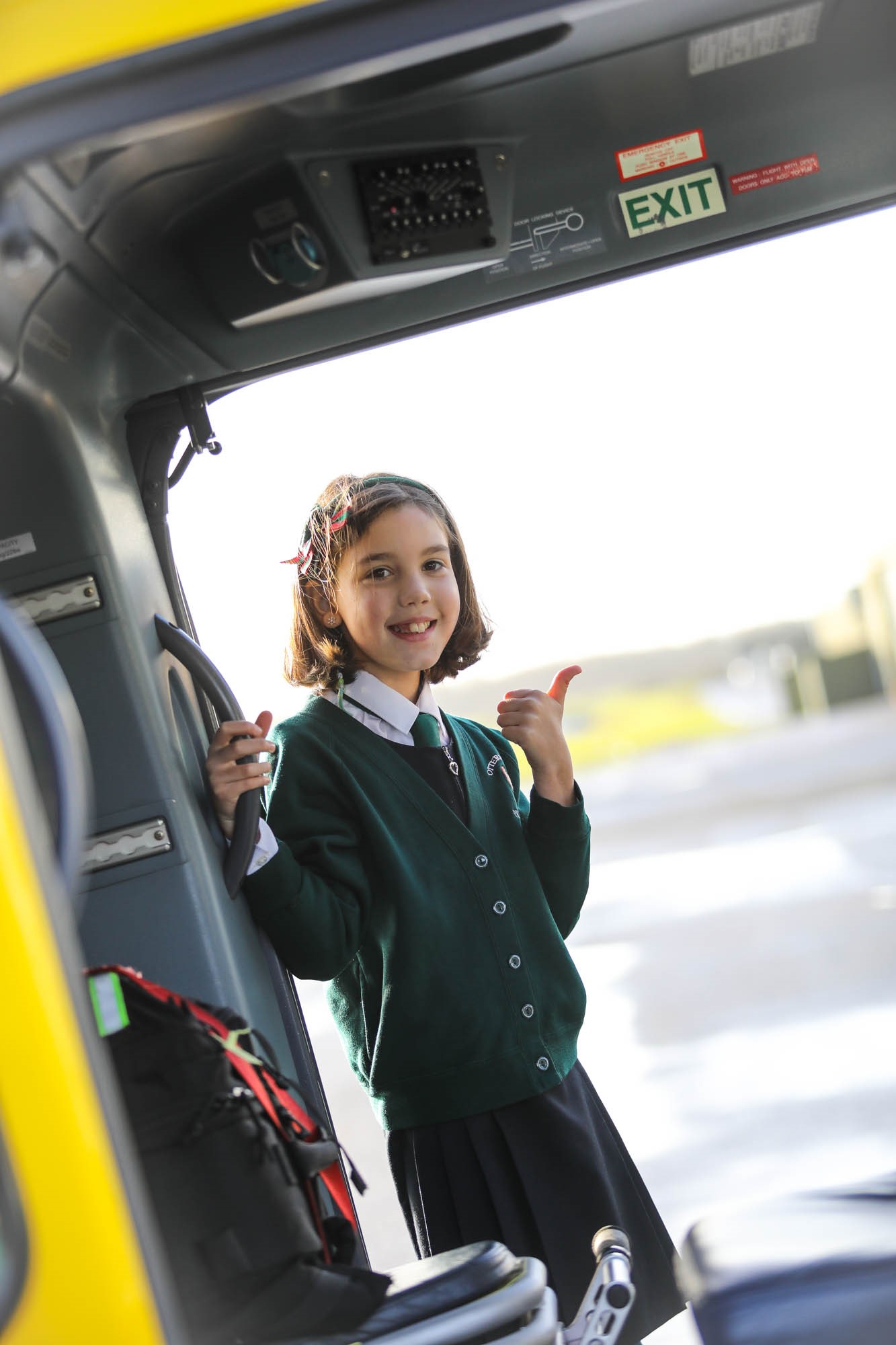 Sky-Rose raised a phenomenal £1,000 for HIOWAA after she agreed to have her long locks cut in return for donations.  In December last year, together with Kevin and Dawn, she visited our Airbase in Thruxton to present a cheque to members of our Critical Care Team and to thank them for saving her life.  Sky-Rose is currently in year 5 at Otterbourne Church of England Primary School and Kevin remembers the day of her accident. 
Sky-Rose, who was eight at the time, was acting as a Flower Girl at the wedding of our oldest son, Simon, to Kieran.  The festivities took place at Oakley Hall near Basingstoke and during the afternoon reception, Sky-Rose and other children went out into the grounds to play.  Whilst they were playing, they decided to climb a little way into an old "lightning tree" and unfortunately, Sky-Rose fell from a branch, impaling her abdomen on a branch below.  Thankfully, an adult was nearby and was able to lift her off the branch and carry her in to the hall, whereupon the staff immediately called for an ambulance.
The ambulance arrived within a few minutes and, following a brief examination, the paramedics called for the Air Ambulance, which arrived very soon after.  People around were distressed by what had happened, but the paramedics ensured that Sky-Rose remained calm and they continually reassured her, and us, that all would be fine.  I have to say that Sky-Rose was probably the calmest of all, possibly a little through shock!
After a quick but thorough examination, Dr Chris confirmed that they would need to take Sky-Rose to University Hospital Southampton to clean out the wound and to identify any potential internal damage.  Sky-Rose was taken by stretcher to the Air Ambulance, and she and her Mummy, Dawn, were then flown on to hospital.  Throughout the flight, Sky-Rose was continually monitored and reassured.  The Team on board gave her a little teddy bear that she christened 'Dr Chris', who still has a place of honour in her bedroom. The journey went quickly and on arrival at Southampton, a large medical team was waiting to assess Sky-Rose.  She was operated on and remained in hospital for the next four days.
Dawn still remembers the helicopter flight.   Everything seemed to happen really fast and without any fuss or fluster.  The crew ensured that she and Sky-Rose were quickly and comfortably settled into the aircraft and that Sky-Rose could see her; she remembers how surprised she was by how calm Sky-Rose was throughout the journey and by her attention to what was going on around her.  The helicopter crew had radioed all Sky-Roses' information ahead to the hospital so that they were fully prepared for our arrival and we were met by a very large and impressive team of trauma staff who quickly identified who needed to be involved and they simply got on with doing what was necessary.  The professionalism of everyone involved in looking after Sky-Rose was phenomenal.   The Air Ambulance team were absolutely fantastic, and it was wonderful for Sky-Rose to be able to meet Tom, the paramedic who helped look after that day, during our visit to Thruxton.
"It's great to hear that Sky-Rose has recovered well. Part of the strength of our Air Ambulance service is that we are an intergrated part of trauma care in the region; I was able to talk to my colleagues before we arrive to ensure the right people were ready and waiting. I remember Sky-Rose was the perfect patient and didn't seem fazed by any of it. What a star!"

Dr Chris Hill, HIOWAA Critical Care Team.
Today, Sky-Rose has fully recovered and has a scar on her abdomen that she refers to as her "chicken nugget" because of its size and appearance! She is a thoroughly happy and very healthy little girl.
We are very thankful for the care and attention shown to Sky-Rose by the Air Ambulance Critical Care Team that day.  We often see the helicopter fly overhead and remember how lucky Sky-Rose is and hope that whoever is benefitting from their care that day is going to be equally lucky. Sky-Rose has wanted, for a long time, to do something meaningful to thank the team for looking after her and having her hair cut in support of The Little Princess Trust gave her the ideal opportunity to raise much needed funds to help keep the Air Ambulance flying and continue saving lives.  Thank you for all that you did and continue to do; we owe you so much.