In August 2019, at the age of just 23, Reece collapsed at his home as a result of a blood clot in his brain. Below he tells his story.
"I had been suffering from an excruciating headache all day – worse than any hangover I had ever had. When I arrived home from work following the end of my shift, my head felt no better. I am unsure of what happened after that, but I am told that my housemate, Vera, was the first person to find me; I had been tidying my room and she had heard the bang as I had hit the floor and came running up the stairs. Sensing something was wrong, she called for an ambulance.
"As luck would have it, there was an ambulance crew on the seafront, helping at Victorious Festival, just around the corner. As soon as they entered my room and saw me collapsed on the floor, they called for the Hampshire and Isle of Wight Air Ambulance Critical Care Team."
The Air Ambulance landed on the Common, just minutes from Reece's house. There, they stabilised Reece by placing him in an induced coma. They then made the decision to accompany him by road to University Hospital Southampton, where they had the specialist equipment to carry out a mechanical thrombectomy: a procedure to remove the blood clot in Reece's brain.
"I don't remember the trip to the hospital at all, as I was having a much-needed sleep. All I know is that people weren't moving out of the way of the ambulance as we made our way to the hospital.
"I woke up two days later, post-surgery, with a tube down my throat and limited movement of my limbs. The tube to help me breathe, which I later found out was originally going to be in for a few weeks, was taken out the day after I gained consciousness. I was moved out of the Intensive Care Unit and recovered in the hospital's stroke ward. I had just one focus: to get better. My housemate, Vera, was going back to Portugal as she was only here on a gap year. Not only did I not want her last memory of me to be in a hospital bed, I also wanted to thank her properly for what she did, so I knew I had to be out of hospital by then, no matter how unrealistic that was.
"After a few days, I was sent to Queen Alexandra Hospital. Initially my balance and mobility had improved, but my brain had forgotten how to walk. A few more painful days passed, and my physiotherapist was happy enough with my progress to sign me off to go home; just in time to see Vera the day she flew back to Portugal.
"After a few weeks of treatment from Portsmouth Stroke Association, I was walking normally again. I was able to go back to work part-time and have since gone back to my normal working hours.
"I try not to let what happened dictate who I am as a person, although I now treat my body with a lot more respect than before. Having been given a second chance at life I want to make the most out of it and be the very best worker, friend and person I can be."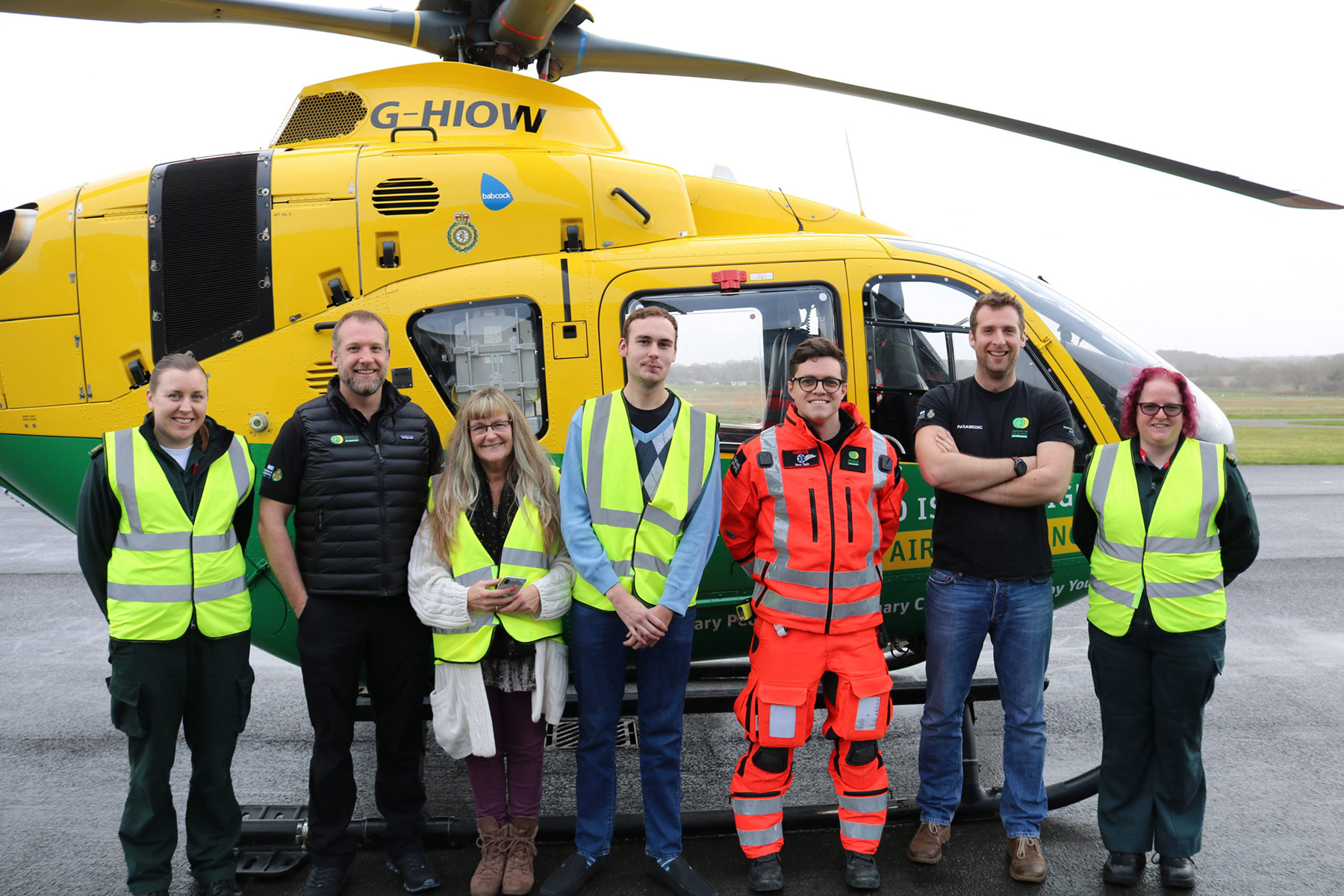 In January, Reece and his mother, Kim, came to our Airbase at Thruxton to meet the crew who were on board and on hand to save his life that day.
"It was incredible to meet the team responsible for saving my life. I honestly can't speak highly enough of them and the service they provide. They are incredible at their job and truly some of the most amazing people I have met."