An Aldershot mum whose son survived a fractured skull is to getting ready to join us at our night-time 5km fun run, Dash in the Dark, on Saturday 23 September to thank the crew for helping to save his life.
Oscar Hutton, who was three at the time, fell 12 feet onto a tiled floor at his grandparents' home in May 2019. In and out of consciousness, Oscar was carried from the conservatory into the lounge. His grandparents, fearing they could lose their "amazing little grandson", anxiously waited for the emergency services to arrive.
The Hampshire and Isle of Wight Air Ambulance duty crew were by Oscar's side in less than 20 minutes of the first 999 call. They assessed Oscar's severe injuries and stabilised him before travelling with him to University Hospital Southampton by road ambulance.
Oscar had sustained a fractured skull, which they weren't aware of until he had an x-ray in hospital. While Oscar has been left navigating several challenges due to the injury to his brain, his mum, Jenny, recognises that without the care he received, "Oscar may well not be here today."
On Saturday September 23, Jenny, will take on our night-time 5km fun run, Dash in the Dark to say thank you for saving Oscar's life.
Jenny, her daughter, Lucy, and sister, Michelle, will be leading the pack, proudly sporting runner numbers one, two and three, on Southampton Common.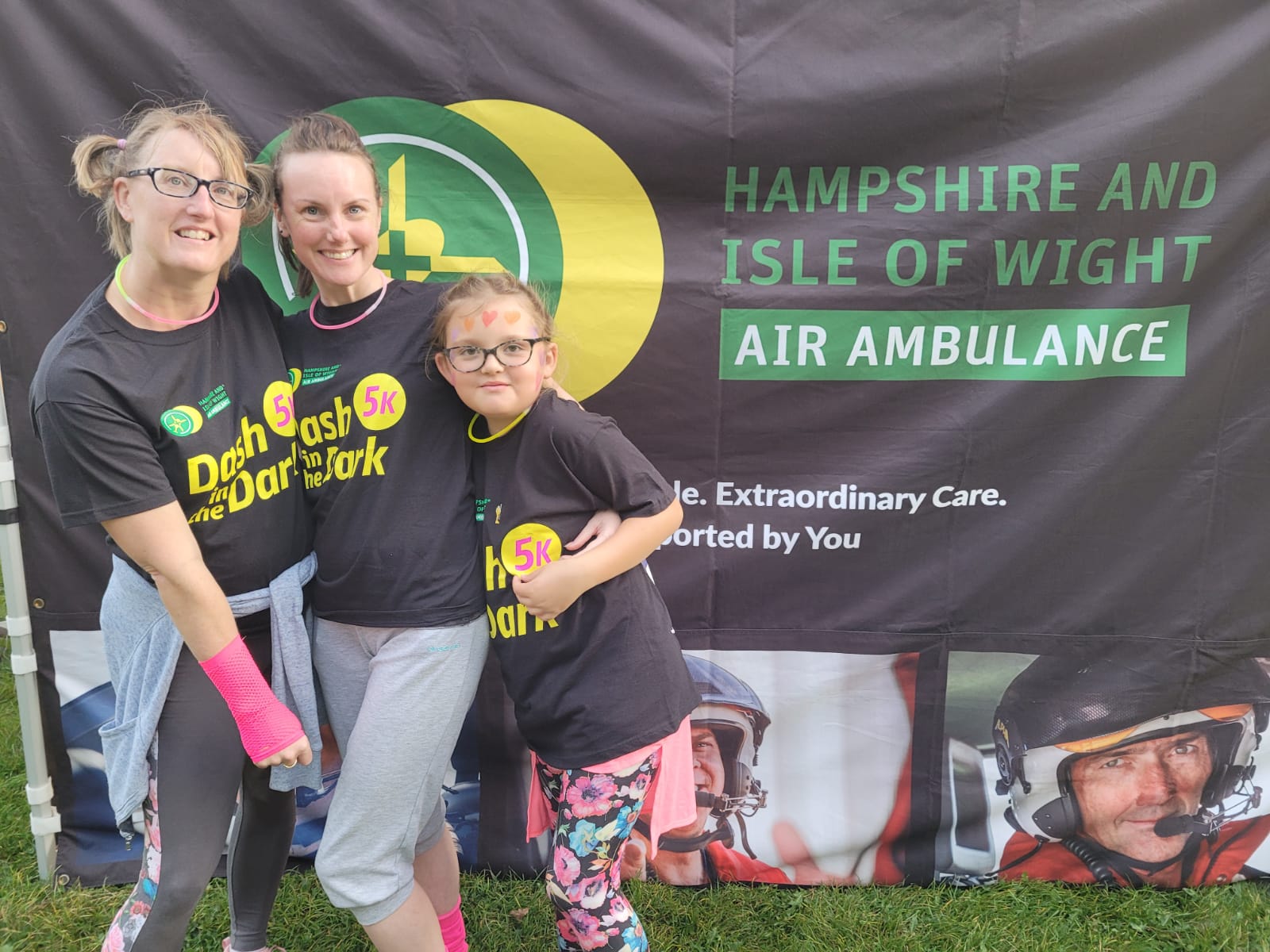 Jenny said:
"Until I needed to use the Hampshire and Isle of Wight Air Ambulance, I really had no idea about them. I now do all I can to fundraise for them – carrying on the fundraising of my late husband and Oscar's Dad, Mathew Hutton, who sadly passed away in August 2022, who volunteered for the air ambulance charity and always helped at Dash in The Dark. This will be our third time going, and I am proud and honoured to have been asked to lead the charity run."
Participants of all ages are encouraged to light up the night with their brightest clothes, funkiest fancy dress, neon face-paints and fluorescent glow-sticks to support your local air ambulance.
Check in for Dash in the Dark will open from 6pm. The warm up will start at 7pm, with the 5km dash beginning at 7.15pm, as darkness falls.
The route is softly lit and paved throughout, though head torches are essential. All participants will receive a free Dash in the Dark T-shirt and a glow in the dark medal at the finish line.
Have you got your ticket yet? More than 500 tickets have now been sold. So be quick.