"The police called me at 6pm. I was hysterical – it's the phone call no parent wants."
Apprentice commercial van fabricator, 19-year-old Louis loved his motorbike. But as he was riding back from a day at the beach in June 2023, he sustained a series of devastating injuries when he came off his bike and hurtled through a barbed wire fence.
A catalogue of injuries
"It's a bit gruesome," warns Claire, Louis' mum.
"The fence ripped off the skin and the muscle, all the way from above his knee down to his lower calf – exposing his blood vessels and nerves."
Louis had also broken his femur and sustained a traumatic brain injury.
Despite his life-threatening injuries, Louis was fortunately wearing all the appropriate protective clothing, such as body armour, boots and Kevlar jeans – without which, his condition would undoubtedly have been even more desperate.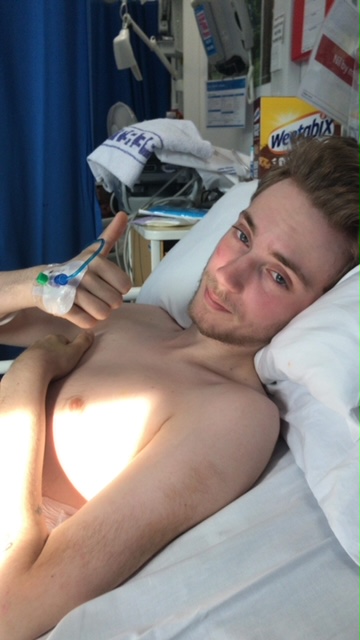 A member of the public saw Louis fly through the air. He immediately called 999.
"The police called me at 6pm. I was hysterical," says Claire. "It's the phone call no parent wants. We were instructed to go straight to the Emergency Department where Louis had life-changing injuries."
We received a call to support the ambulance crew attending a 19-year-old who had come off his motorbike. A doctor and specialist paramedic flew to Louis and landed in the field that Louis had found himself in as a result of his incident.
It was apparent that Louis had significant injuries to his left leg and so the decision was made to sedate him so that we could straighten his leg and transport him to hospital by road ambulance.
Louis was unstable and had lost a lot of blood – the team quickly set about giving him a blood transfusion and some medication to help with his pain. We continued with this all the way to hospital where we handed over Louis to the Emergency Department team.
Recovery
Louis spent the next month in hospital, where he underwent five surgical procedures – the main one being eight hours long, where the muscle was grafted from his back and the skin was grafted from his thigh.
While he currently relies on a wheelchair for longer walks – usually to hospital appointments – and uses crutches around the house, "The hope is that he'll eventually walk independently again," says Claire.
"We do not know what level of recovery he will get to; he currently wears a splint as he cannot move his foot. He is starting to get a small amount of movement back, but it could take up to 18 months before we know how much he will recover, if ever.
"The one thing giving him hope and driving him through the rehabilitation is getting back on his motorbike.
"We have since met up with the passerby who called the emergency services – I was able to thank him for saving Louis. There is no doubt that this act, along with the treatment he received at the scene, saved his life.
"Four and a half months after his accident, Louis has now started his phased return to work."
"I've donated regularly to Hampshire and Isle of Wight Air Ambulance for many years but felt I needed to do something more, just to say thank you."