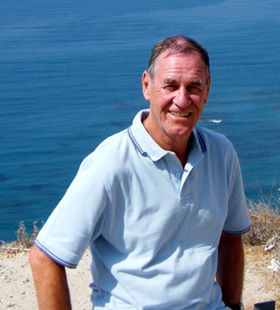 A new day, a new dawn. I'm back home now, contemplating what a difference the events of a week made to my life.
At 4am on Tuesday 20th March, I had to call on the emergency services for the first time in my life. I was having a heart attack and needed help.
Within minutes, paramedics from St Mary's Hospital arrived, and started the task of keeping me alive. They were magnificent; both calm and professional and they talked me through everything they had to do, eventually delivering me to St Mary's Hospital in Newport.
Further tests were carried out, again by a team of brilliant, calm doctors and nurses, and it was determined that I would need to be airlifted to a hospital in Portsmouth for an operation.
At about 8am, the Hampshire and Isle of Wight Air Ambulance arrived and transferred me across to Queen Alexandra Hospital in Portsmouth.
Two members of the HIOWAA Critical Care Team kept me warm and helped to keep me calm, giving a running commentary on where we were. Most importantly, they kept me alive.
The rest of the morning was a bit of a blur. I went straight into an operation to have stents put in; a very professional, chatty team doing the operation. Again, they kept me calm and let me know what was going on. I didn't know that I would be awake throughout the operation.
By midday I was taken up to ward C7 to recuperate. I know I keep saying this, but everyone on the ward, from the doctors and nurses to the tea trolley boys and girls and cleaners, made a great effort to chat to us, keep our spirits up and make sure that we were being looked after to the best of their ability.
I had another stent put in a few days later and was back on the ward straight after. I came home on Sunday afternoon.
I can't praise the NHS staff and the Air Ambulance Critical Care Team enough for the treatment I received.
All I can say is a big 'thank you'.