After being expelled from school when he was just 14 years old and kicked out of his family home at 16, Josh Codling from Romsey, Hampshire, became heavily involved in drink and drugs while sofa surfing with friends. And when he was diagnosed with borderline personality disorder, anxiety and depression, Josh was on track to become another number in the escalating world of male suicide.
In May 2020, after he'd sold his possessions for one last 'blow out', Josh went on a drink and drugs binge with the intention of killing himself. Josh had attempted suicide before but 'only as a cry for help.' This time was different.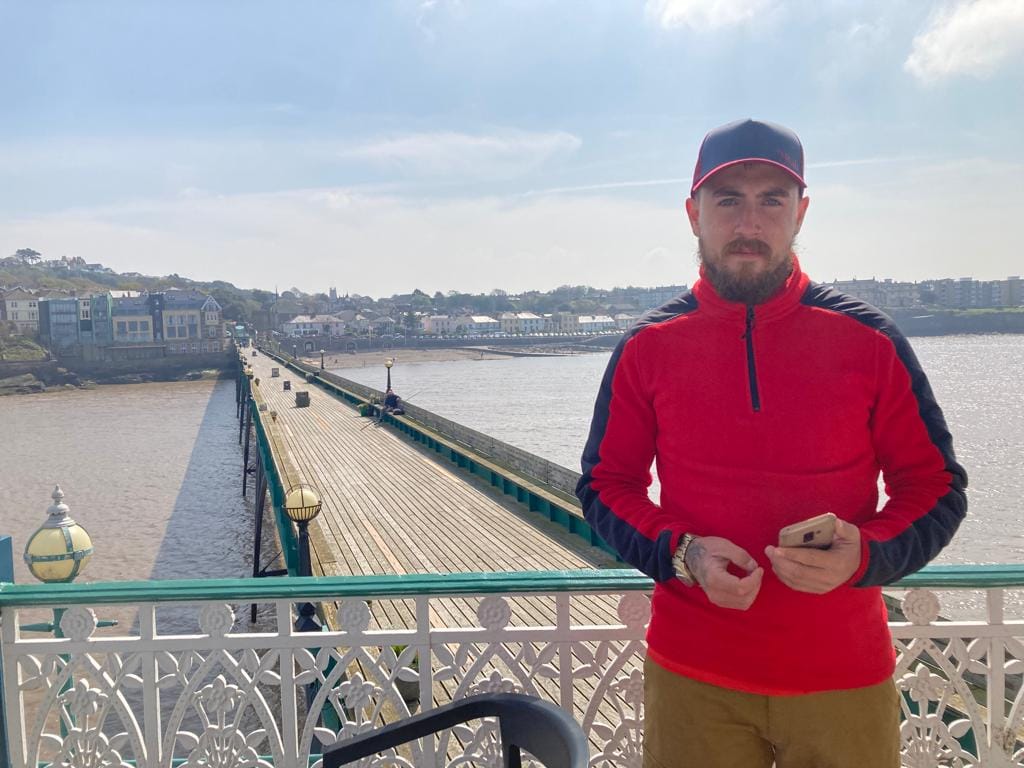 "When I got to 27, I'd seen and done so much that I could only deem myself as doomed with no way to escape my past, something which I struggled intensely to forgive myself for. I'd finally had enough of going round in circles. How do I get out of it?"
Following a night of drinking and drug-taking, Josh was set on seeing his plan through and continued to take heroin and crack cocaine on top of prescription drugs. "That's the last thing I remember," he recalls.
Four days later, Josh woke up from a coma in Intensive Care in Basingstoke and North Hampshire Hospital.
Josh recalls his first conversation when he came around: "Do you know what day it is?' the nurse asked me. 'Yes, Monday.' 'No, it's Wednesday evening.' I shivered. 'Do you know how you got here?' 'Well, I'm in a hospital, so an ambulance?'. She replied: 'you were airlifted by Hampshire and Isle of Wight Air Ambulance.' I was confused, scared and burst into tears."
The Doctor's Account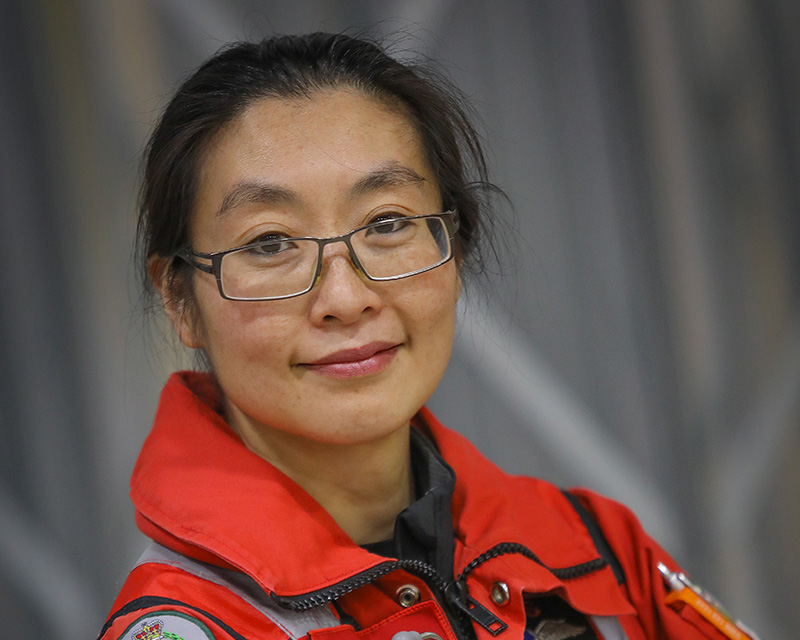 Dr Lou Chan, from Hampshire and Isle of Wight Air Ambulance, attended Josh and said: "We received a call to a cardiac arrest – this is not an unusual incident for us to attend, as more than a quarter of the incidents we attend are cardiac arrests.
"When we arrived I had expected to see chest compressions being performed as part of an ongoing resuscitation, but this was not happening. It was either a good sign or a really bad one. The ambulance crew quickly assured me that it was a good sign.
"Josh had taken an overdose of a cocktail of drugs: Heroin, cocaine, cannabis, citalopram and naproxen – they knew this from the letter he had left.
"The crew had acted quickly to administer the antidote to reverse the effects of the heroin. It had required a significant amount to reverse the effects but Josh was now breathing for himself.
"On the journey to hospital, Josh's conscious level improved but this meant that he became agitated intermittently. Initially he would settle with reassurance but as the journey progressed and we drew closer to hospital, simple reassurance wasn't working anymore – he needed some sedatives to help keep him calm.
"It's quite common for patients to become agitated when coming off a drug high, and they can often become very emotional. Unfortunately, the medication was not sufficient to keep Josh, ourselves and the staff in the emergency department safe – this could only be achieved with an anaesthetic, and Josh was admitted to the intensive care unit.
"That was the last we saw of Josh."
The Turning Point
While Josh was recovering in his hospital bed, he had a 'lightbulb moment'. "I knew in that instant that I had to do something to change my life, something healing and positive, something big."
In May 2021, with his past troubles behind him, Josh strapped on his walking boots and backpack full of spare clothes and set off on the South West Coast Path walk from Poole Harbour to Minehead, Somerset, to raise money for the Air Ambulance charity that saved his life.
After months of trekking and sleeping in tents, Josh returned home to attend his grandad's funeral. But before he could rejoin his walk, Josh contracted Covid-19 which led to a blood clot in his right lung – the third blood clot he's had at the age of 29, due to an underlying condition.
Back on the dusty track with vigour and determination, Josh has decided to push his challenge, and himself, to the limit and walk 19,000km around the entire UK and British Isles coastlines: England, Wales, Northern Ireland, Scotland, Outer Hebrides, Shetland Islands and the other islands around Britain.
"Every day differs. I have no itinerary or set miles to cover. I just keep the sea to the left and walk. I'm not governed by time, dates or society's pressures. I'm as free as a bird and I feel more alive than I ever have.
"My confidence has come back and exceeded anything I could have possibly imagined. I can now walk into a room full of people and happily tell my story with confidence and conviction."
The Kindness of Strangers
With no plan of action or route properly marked out, Josh relies heavily on the generosity from the people he meets in each town, village or beachside retreat. With his tent as back-up, Josh has been invited to stay in the spare room of strangers' homes, pubs and guest houses.
"I'm meeting so many kind people every single day. And it's becoming apparent that the kindness of strangers does exist – and exist in abundance.
"Any gesture, no matter the size, means so much because they are all signs of support. I can't thank each and every person enough. But I hope me persevering is thanks enough.
"I'm constantly receiving messages on my JustGiving and Facebook pages. I've met so many people who have a connection to mental health and male suicide. Unfortunately, it's rife. And I'm so glad I'm having a positive impact on an array of different people, from all walks of life."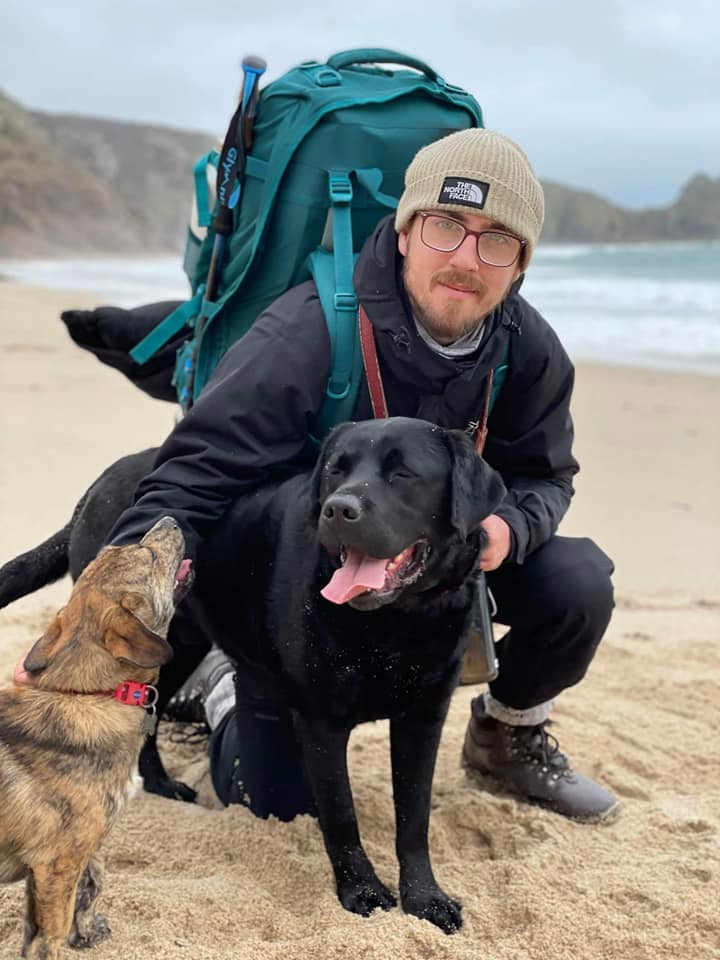 Joined on his journey by a new canine companion, Basil, Josh has so far raised over £5,000 for Hampshire and Isle of Wight Air Ambulance. "I would like to raise a healthy number for the charity that was there for me when I needed them most.
"If it wasn't for their quick response and dedication, I wouldn't be here today.
"I lost myself for a long time. At one stage, I was very confident, charismatic and interpersonal, but I swiftly became a shell of my former self. I can say with great happiness that the man I once was, is coming back, if not already back. If I can change one person's life on this journey, I would be happy. But it seems that I am inspiring and changing lives with every step I take. And it's only just the beginning."
To support Josh on his walk, please visit his JustGiving page.
To follow Josh's journey online, visit his Facebook page.