"I wanted to be in that hospital bed and take the pain away from him."
Shortly before his son, Teddy, was due to turn one, James Cattrall, 31, was involved in a high-speed multi-vehicle road traffic collision. His injuries were critical, and he urgently needed a blood transfusion. James spent the next six weeks in hospital, where he underwent multiple operations and treatments, sadly missing Teddy's first birthday.
On a Tuesday afternoon in July 2022, James' mum, Cath, was finishing up at work when she saw a post on Facebook detailing a nearby road closure because of a major accident.
"I didn't think anything of it," said Cath. "I just told a couple of the guys not to go their normal way home."
A few moments later, James' partner, Millie, 33, called Cath but was unable to find the words and began to cry hysterically down the line. The police officer, who had come to drive Millie to hospital, took the phone from Millie.
"James has been involved in a major car accident and he's on his way to Southampton," she said "It's not looking good. Is there any way you can get yourself there?"
"It was a total blur," said Cath. "And then we found out the Air Ambulance had been involved – I knew then it must be horrific."
It was clear to the team from the air that this was a serious accident with several vehicles sustaining serious damage. They landed in a nearby field with access onto the road directly next to the incident.
Specialist Critical Care Paramedic Mike Funge said, "When we first arrived at James' side, he was conscious and talking. But it soon became clear that he had sustained life-threatening injuries that required rapid intervention and was still significantly trapped by his legs within the confines of his car."
The team quickly assessed James and administered strong pain relief, to make him more comfortable, and a blood transfusion as he was showing signs of shock.
As James was extricated from the car and put onto a stretcher, the life-threatening extent of his injuries became evident.
"We believed that James had sustained numerous fractured ribs, a fractured sternum, a fractured lower leg, a fractured arm, a fractured pelvis," said Mike. "We also believed that he was bleeding internally causing him to have a low blood pressure and high heart rate."
James was loaded onto an ambulance and driven to University Hospital Southampton. He required continuous interventions throughout the journey to hospital and remained unstable and shocked.
Mike said, "We spoke to him about his family, and he was able to tell us that his child's first birthday was coming up. We reassured James and talked about the plans he had for a birthday party and that he could save us some cake if there was any left!"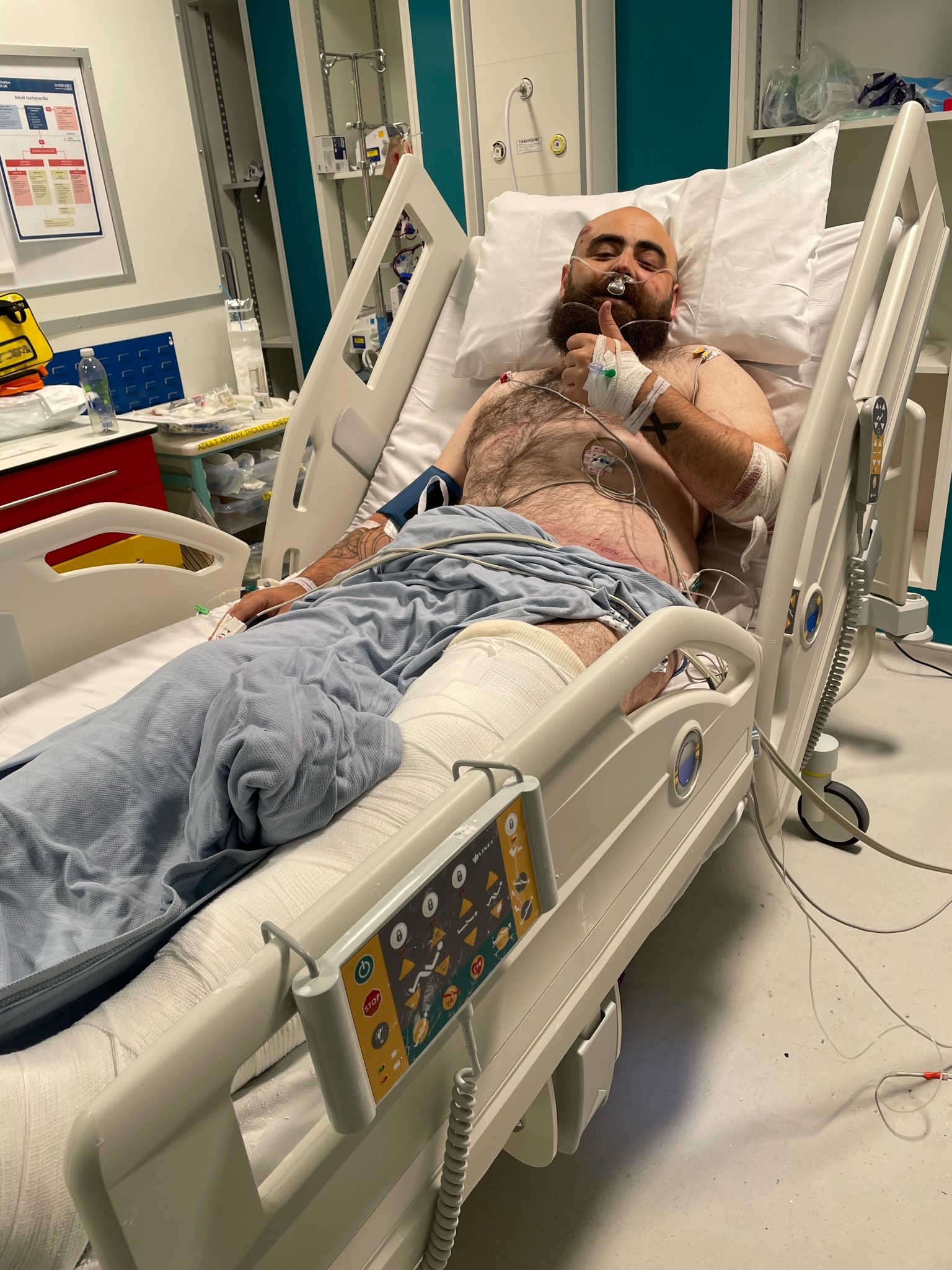 James was handed over to the awaiting trauma team in the resuscitation department.
"When we saw him in Resus, it just become a complete daze," said Cath. "I knew he was bad, just by looking at him. There were wires everywhere. Nurses and doctors rushing around. It was an out-of-body experience – like I was looking from the outside in."
"I wanted to be in that hospital bed and take the pain away from him, but I just couldn't."
James had three open fractures to his tibia and fibula, suffered damage to his ankle, pelvis, back and hip – which will require a hip replacement – broke his nose, eight ribs and right arm. James had also lacerated his kidney and damaged his spleen. He also later developed sepsis and pneumonia while he was in hospital.
James was well enough to be discharged home in September 2022, where he has continued his recovery.
"I've tried to keep a smile on my face every day throughout my recovery," said James. "Don't get me wrong, it's hard thinking back to the fact that I have some life-changing injuries, but we have been so lucky to spend time together as a family. Millie and I have learned to treasure our time together even more, and it has brought us even closer."
"I would hate to think about what might have been if the team hadn't turned up. No doubt the worst could have happened."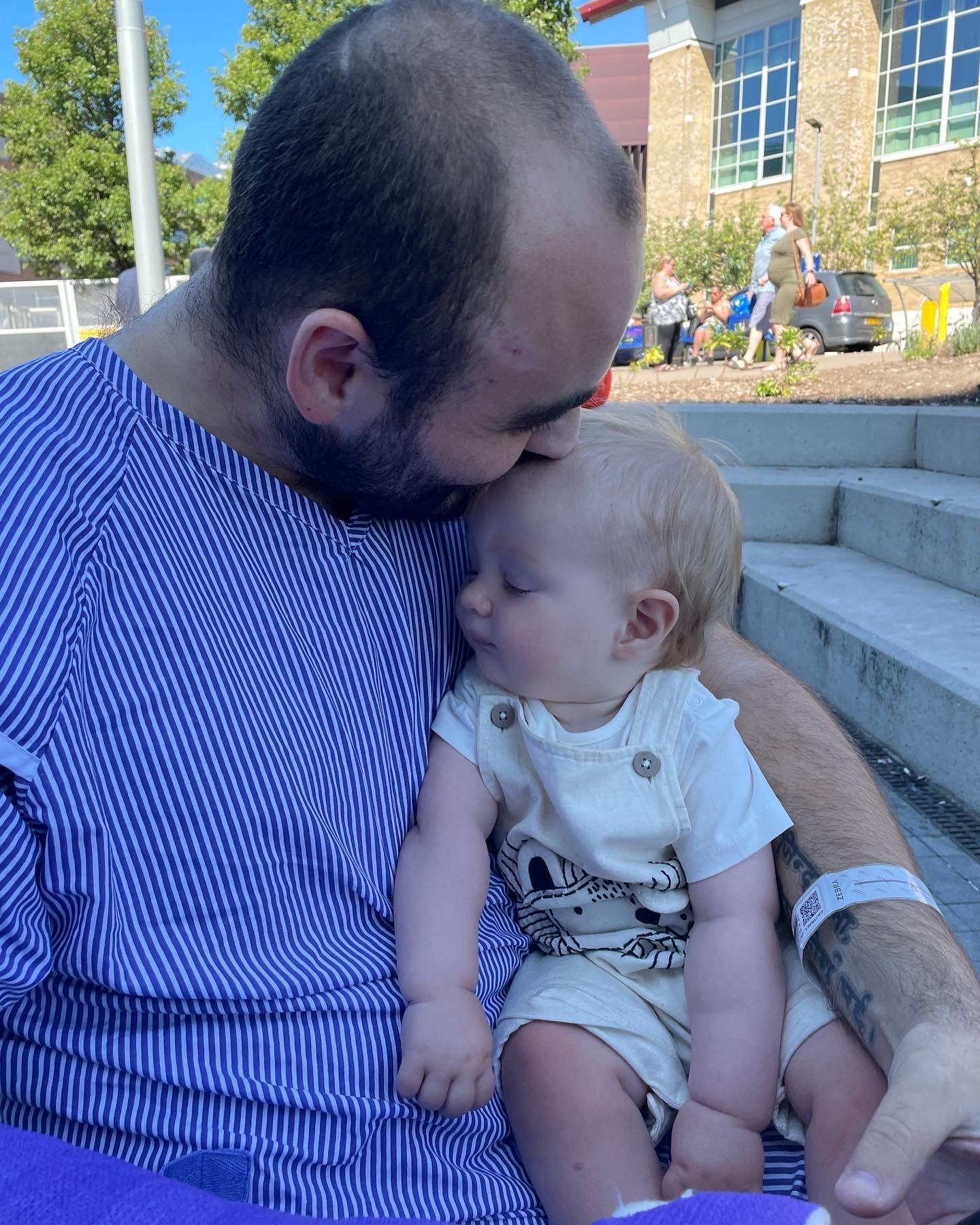 Mike added:
"We are absolutely thrilled to find out about the recovery that James has made and hope that his recovery continues with his fiancé and family.
"Without the support of all those who donate to the Hampshire and Isle of Wight Air Ambulance, the outcome for James may have been very different. Your kind donations have directly had an influence on saving the life of a patient. Because of your kindness, generosity and support, a family still has their daddy, their husband and their son."