Five friends from across the UK are counting down the days until they attempt to row 2,800 miles across the Pacific Ocean in a bid to raise money for four air ambulance charities and an armed forces charity close to their heart.
Alison Wannell, Andy Warner, Elaine Theaker, Neil Blackeby, Huw Carden and their boat, 'The Voyager', will tackle extreme weather and harsh conditions as they aim to complete the row of a lifetime as part of the inaugural Pacific Challenge, starting on 12 June 2023.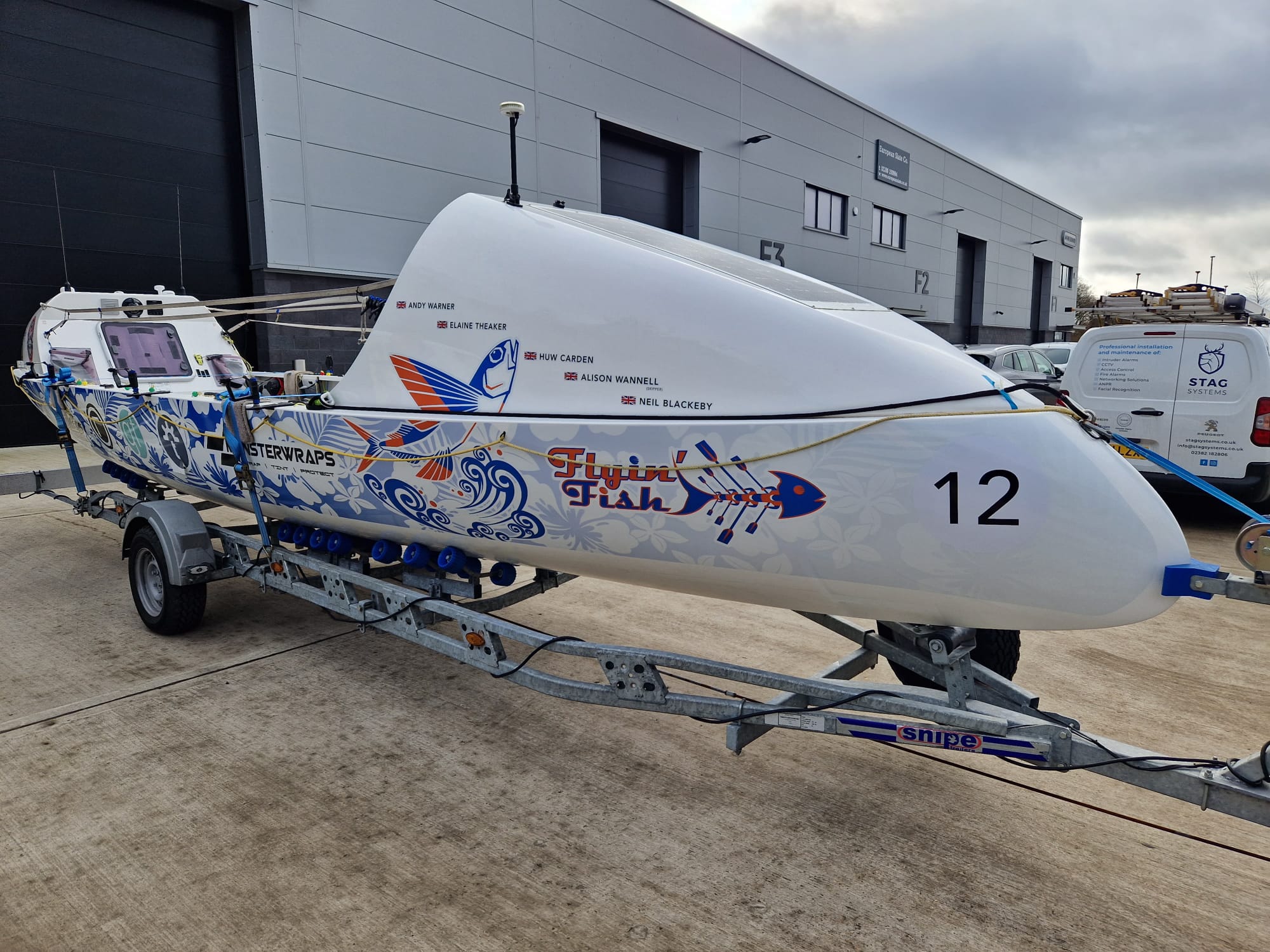 The team, named Flyin' Fish, are setting off from Monterey Bay, California, and will row non-stop for anywhere between 35 to 50 days until they reach Hanalei Bay, Hawaii.
In a rare move for teams crossing the Pacific, The Flyin' Fish are skippered by a woman, Alison Wannell, and will become part of only three mixed gender teams to have completed the row.
Between them, the rowers hope to raise £20,000 to be split between Wales Air Ambulance, Devon Air Ambulance, Cornwall Air Ambulance, Hampshire and Isle of Wight Air Ambulance and SSAFA – The Armed Forces Charity, respectively. Each air ambulance charity represents the area where each team member lives.
Once the Flyin' Fish arrive in Hawaii, they will become part of a select group of just 80 people in 31 boats successfully rowing to one of the Hawaiian Islands from mainland USA. The route is relatively new and untouched when compared to the more popular Atlantic rowing challenge that four members of the team have previously completed separately.
Andy Warner, from Basingstoke, said:
"There will be days of high winds and big cresting waves which will threaten to capsize our little boat. But we have given ourselves every chance of taking on the Pacific and her ever changing moods. It's the pinnacle of personal growth; beat the Pacific and you can overcome anything.
Buoyed with the prospect of seeing marine wildlife including whales, dolphins and sharks, Warner is aware of the isolating nature of such an intensive challenge, having previously completed the Atlantic Rowing challenge.
He said, "Sometimes the nearest humanity is in the space station overhead. But we hope to touch people's imagination and inspire them to "join" us on our journey.
"It's the cherry on the cake to represent and raise funds for such vital services. But we cannot achieve this without the much-valued support of the wider public."
To donate to the Flyin' Fish, visit https://www.justgiving.com/fundraising/Flyin-Fish1