"I loved my old life; I used to exercise five or six times a week. I recently cycled 100km in four and a half hours. I was an incredibly active person, which is probably one of the reasons I survived. But my life is so different now. It doesn't have to be bad, just different. That's my attitude."
Jogging through the streets of Portsmouth on a cloudy New Year's morning, 30-year-old Dale was embracing the start of a new year. As he stepped out to cross the road, his life was about to change forever. Below, Dale tells his story.
"It was probably the first year as an adult I could manage to go jogging on New Year's Day and not just be hungover," he said. "As I stepped out to cross the road, I was hit by an oncoming car." For what follows, Dale considers himself very lucky. "The nearest car just so happened to be carrying an off-duty Community First Responder. If it had been someone who didn't know what they were doing and they tried to move me, I don't know whether I would have survived."
Police units and paramedics arrived on scene, quickly followed by the HIOWAA Critical Care Team in one of its Emergency Response Vehicles. Dale was stabilised at the scene and transported to University Hospital Southampton (UHS), the region's Major Trauma Centre.
Among his injuries were broken bones in his vertebrae, ribs, sternum, scapula and skull, eventually causing two bleeds on the brain, a punctured lung and a bruised liver. "The T12 vertebrae essentially exploded, causing my spinal cord injury, meaning I am now paralysed and have no sensation in the lower half of my body."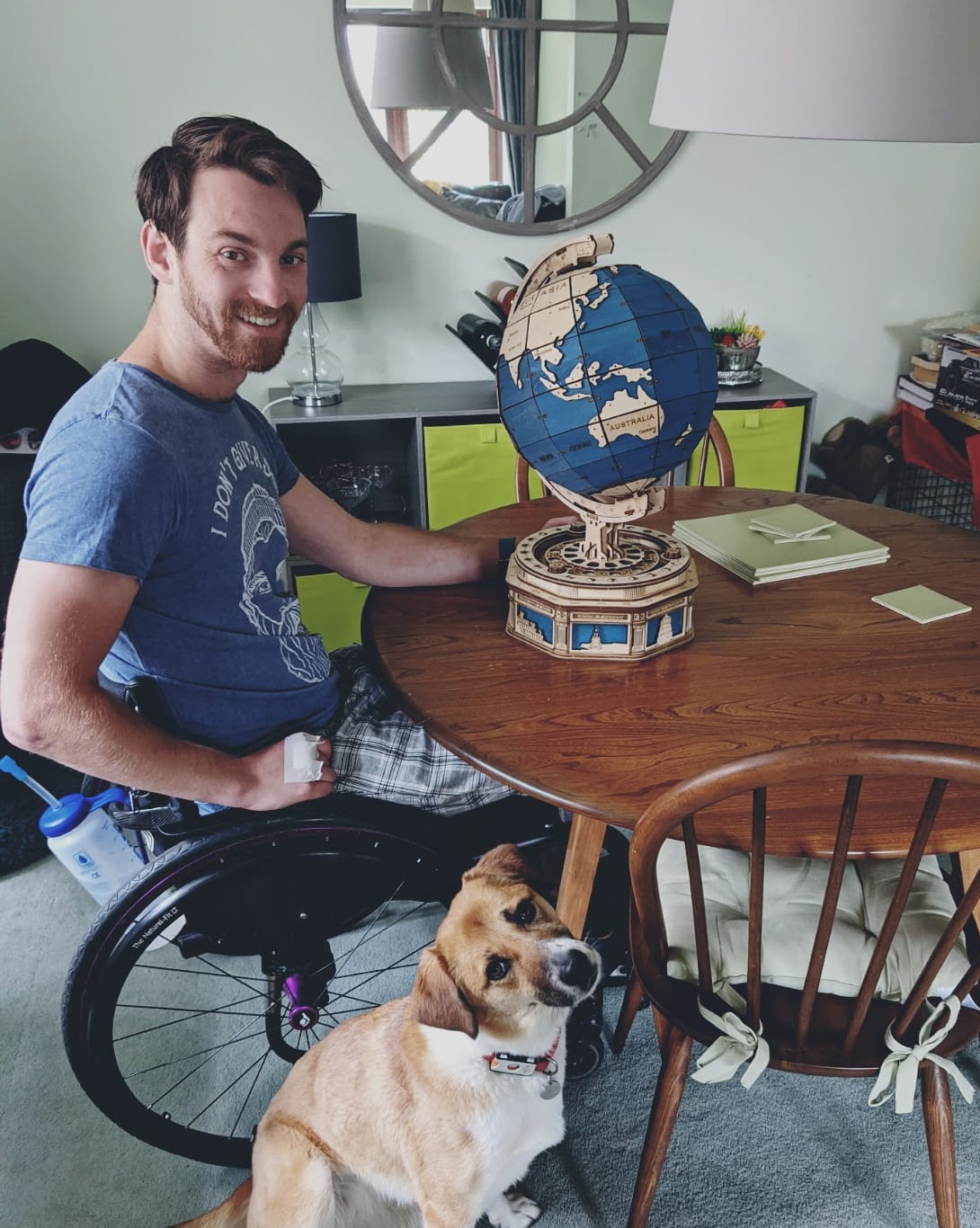 Dale spent the next 17 days in a coma and a further three weeks in UHS before being transferred to Salisbury Spinal Treatment Centre, where he stayed until Wednesday 16 March.
"That was months shorter than what I was expected to be in hospital for," said Dale. "But because of Covid-19, I really didn't want to be in hospital, I just wanted to be at home." Throughout his 75 days in hospital, Dale was only able to see his then fiancé, Rachael, for an hour and a half. "That was tough," said Dale.
"You wake up from a coma, paralysed, and you just want to see your family."
Upon being discharged home, Dale knew this was the start of a long road ahead. "There's lots of things I had to relearn just to be able to function and live in the real world again. How to use a wheelchair properly, how to wee again, control my bowel movements, to shower: there was so much I had to do."
Though he is 'determined to walk again,' when Dale was in Salisbury Hospital, that goal was seemingly out of reach: "They thought I had a complete injury, meaning I wouldn't get any movement back. But it was only when I started attending private physiotherapy that they found there's a chance I can get movement back and that I should be able to walk again."
At his first hydrotherapy session, Dale regained movement in his leg as he pulled his knee up to his chest. "It was very slight, but it was movement. It was unbelievable. So unbelievable that I bought myself a hot tub at home, so I can do hydrotherapy sessions at home every day. I sit in the hot tub and just think about moving my leg, and eventually the messages get through and the muscles work," said Dale. With his wedding fast approaching, Dale's new aim was to stand for the first dance. "We chose Stand by Me by Ben E. King, and we just stood together. It was amazing."
Described by his friends as 'annoyingly positive,' there was never any doubt in Dale or his friends' and families' mind that he wouldn't be one to shy away from the challenge.
"It's grit and determination that pushes you through it," said Dale. "In a lot of ways, the mental health side of the situation is a lot more important than the physical side. If you've got a good frame of mind and the right attitude, everything is a lot easier. And I think your recovery happens a lot quicker."
While the support from loved ones, in particular from his wife Rachael, has helped Dale 'get through it quite well', he has tried his hand at something new to help him process what has happened, as well as be there for others going through a similar ordeal.
"I've started a YouTube channel called 'thewheeldalemuffett' talking about spinal cord injuries and all the stuff that comes along with it," said Dale. "I knew nothing about spinal cord injuries before my accident, nothing at all. You have this perception of people in a wheelchair that they just can't walk. But the paralysis is just one of maybe 10 other things that are going on."
Over the coming months, Dale came to understand how he owed his life to Hampshire and Isle of Wight Air Ambulance and those who have looked after him. "I didn't expect to need the Air Ambulance, but here we are. How I survived is just amazing, which is why I'm eternally grateful to them. Having that life-saving support in that very moment is what kept me alive.
"Without the support and generosity from the general public, who knows what might have happened."
"No one knows who is going to end up needing the Air Ambulance, today, tomorrow or the next day. It could be any one of us: It's such a vital service. And it's not just myself who is eternally grateful, it's my friends and family as well. We all just owe them so much."
A Doctor's Perspective: Dr Bentley Waller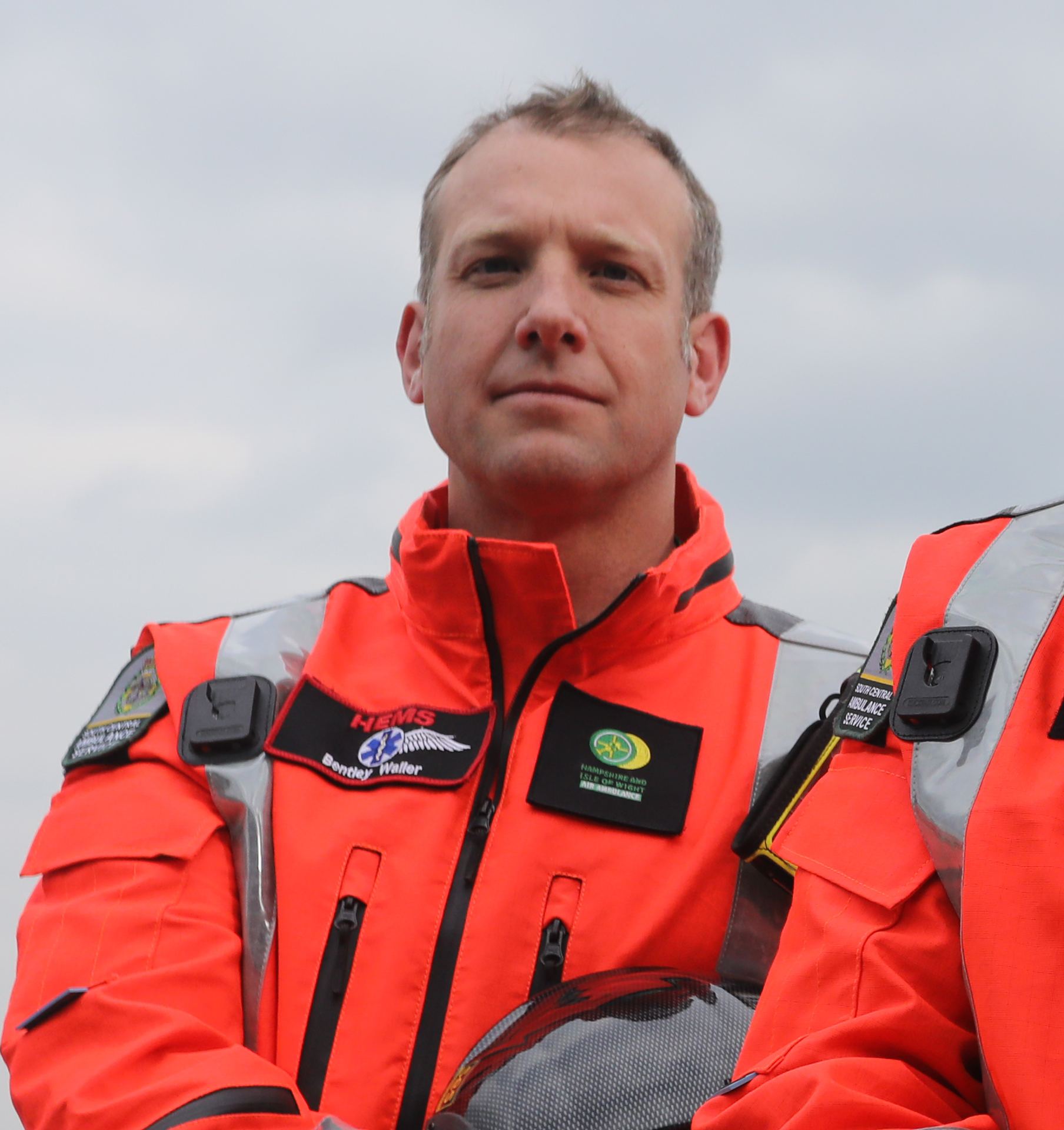 Dale had been running on New Years Day and been hit by a vehicle. He was critically unwell with life threatening injuries.
He had life threatening chest injuries including a collapsed lung that was causing pressure in his chest which, if left untreated, would stop his heart from beating (tension pneumothorax) and he was struggling to breathe. He also had life threatening internal bleeding, a severe head injury and a spinal injury (amongst other injuries).
We supported his breathing with a bag valve mask and oxygen, inserted a needle in his chest to relieve the pressure build up, gave him an anaesthetic and artificially ventilated him, performed a surgical chest procedure (thoracostomy) to relieve more pressure and reinflate his damaged lung and gave him blood. We then took him, by ambulance, from Portsmouth to University Hospital Southampton (UHS).
In summary he was seconds from dying from several life-threatening injuries. The critical care interventions and treatment we were able to give him, with the South Central Ambulance Service teams, stabilised him and allowed him to get to UHS and receive the definitive life-saving care that he had."