When Carol's dad, Geoff, suddenly died in hospital in January earlier this year, she took up running to help her along her recovery process. Eight months on, Carol and her daughter, Lucy, will be taking part in our night-time 5K, Dash in the Dark, in memory of their beloved dad and grandad.
Having previously worked as a groundsman at our Airbase in Thruxton, Geoff was friendly with many members of our crew. Back in April 2010, when he was walking his dog, Geoff took a nasty fall and was suddenly in need of the Hampshire and Isle of Wight Air Ambulance (HIOWAA). "He couldn't remember anything from his fall, so we've never really known what happened", says Carol. "His neck was jarred, and he couldn't get his hands out from underneath him. A driver stopped and saw a dog running around on its own. Together, they called for an ambulance, my mum and me."
The crew on board assessed Geoff and his injuries: he'd suffered a severe spinal injury. Geoff was loaded onto the helicopter and flown to University Hospital Southampton (UHS) where he spent the next month. Following an operation on his neck, Geoff was moved to the Salisbury Spinal Treatment Centre.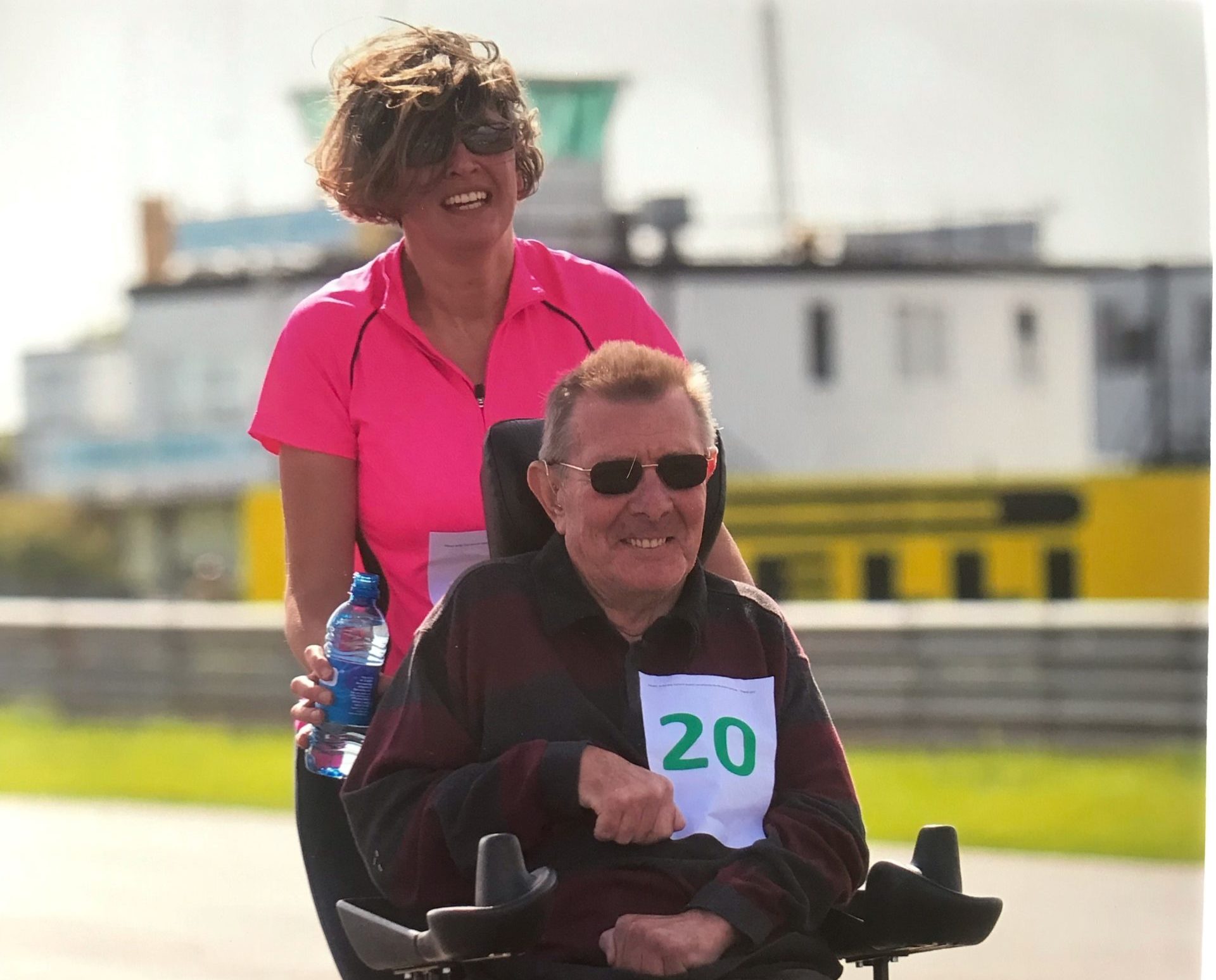 "He was given a window seat which looked out over the helipad, which gave him something to look at, at least. He was always seeing HIOWAA come in to land", says Carol.
"We were hoping he would regain some movement but, sadly, he never did. Being 69 at the time, I think his age was against him."
Geoff was discharged from hospital just before Christmas, eight months after his fall.
"The year after my dad came out of hospital, he asked me, 'HIOWAA is doing a run around Thruxton circuit, would you sign up to raise some money?' 'I will, but you're coming with me', I told him. So, I pushed him around the circuit in his wheelchair."
In December 2020, Geoff was taken into hospital with a large kidney stone that had led to multiple bouts of sepsis.
"They operated on him but, because of some complications, he sadly died in January. Because it was during Covid-19, they stopped all visiting on 28 December which was the last time I saw him. He was due home on the 11 January but died suddenly the night before. That was really tough."
To help her on her recovery and grieving process, Carol started participating in the NHS Couch to 5K.
"The running helped me and made me feel better" says Carol. "Then I saw the Dash in the Dark event and it all just fell into place. HIOWAA was something my dad held dear. When he died, my mum asked for donations to them, instead of flowers." She added, "I associate the service with my dad. Not only did he work at Thruxton, but they picked him up when he needed them."
Reflecting on taking part in Dash in the Dark, Carol explains, "It keeps my dad there with me. I know I'll be thinking about him when I do the run because the last time I did something for HIOWAA, I was pushing him along."
Sign up to Dash in the Dark and help us be there for more patients like Geoff.
You can support Carol and Lucy on their Dash here.