Tasked with cleaning the lens on their CCTV camera, 73-year-old Bernard Thornton, or Bernie as he is affectionately known, scaled a ladder propped up against the side of his bungalow in the New Forest. Without warning, the ladder slipped out from underneath him causing his head to hit the concrete path beneath him. His daughter, Clare, shares their story.
"He dislocated one of his shoulders, fractured his skull and completely smashed one of his eye sockets. His head was basically open."
Watching the CCTV footage back a few months later, with no memory of the incident, Bernie has now had the chance to see the incident unfold before him. "You couldn't actually see him fall. We saw all of the team turn up in their orange gear and help put dad back together before taking him off in the ambulance. He's fascinated by that."
Following the 999 call, a community first responder quickly arrived on scene. They were closely followed by a road ambulance and Hampshire and Isle of Wight Air Ambulance crew. 'They stuck around for quite a while,' says Clare.
"They intubated my dad and put him in the back of the road ambulance to take him to University Hospital Southampton."
Given just a 20% chance of survival, things were looking bleak for Bernie as he lay in in hospital.
"It was horrendous. And the worst bit really was not knowing how he was. We were having to rely on staff at the hospital to hold an iPad in front of his face while he was drifting in and out of consciousness."
After a couple of stints in intensive care and many weeks in Neurological Rehabilitation there was not much more they could do for him at Southampton so he was transferred to Salisbury District Hospital. Bernie was placed on the end-of-life care pathway. "He just rallied and gradually got better and better," says Clare.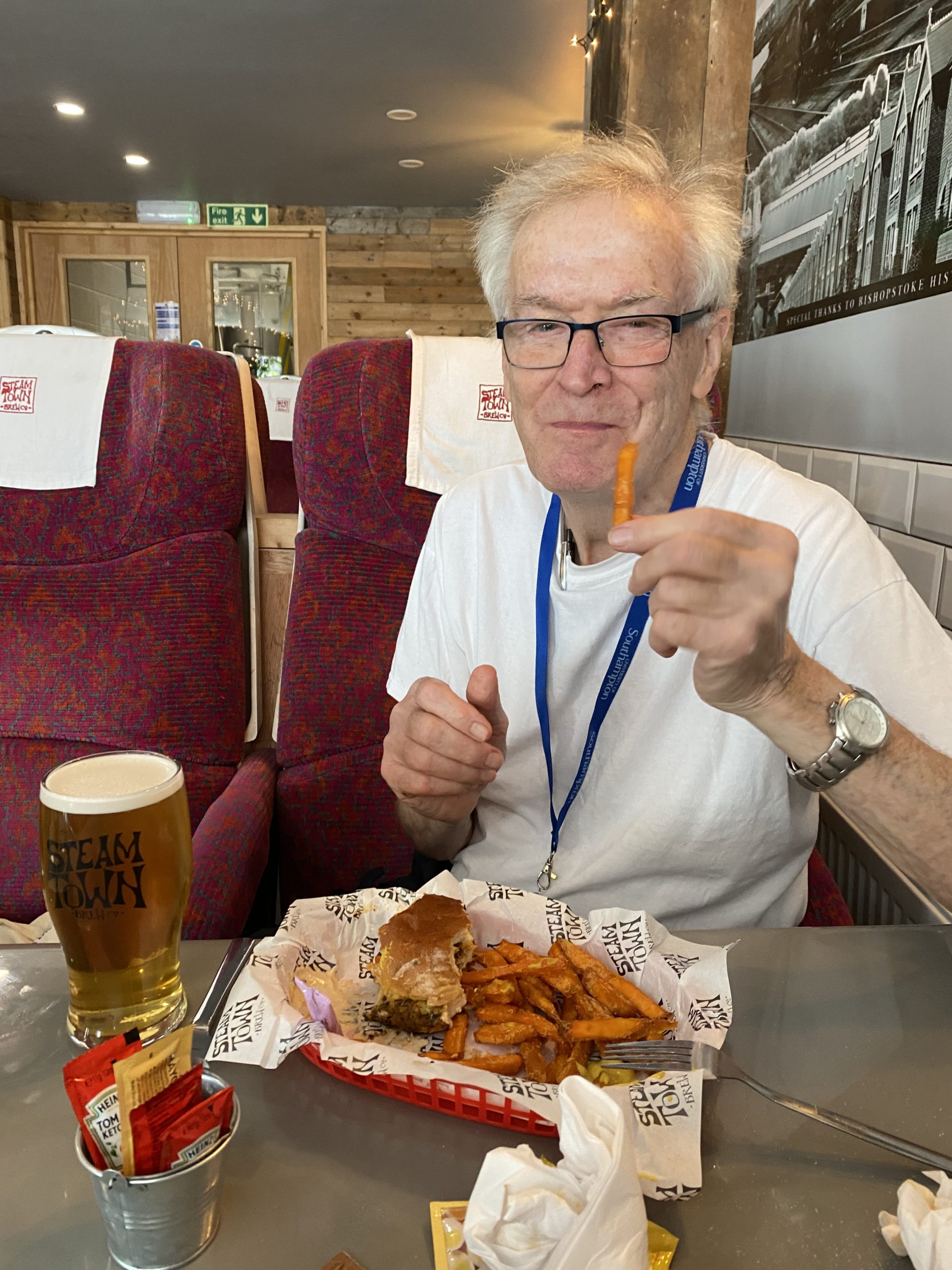 "It was an awful time for him to have had the accident. By the time Covid-19 picked up again over the Christmas period he was in Neurological Rehabilitation. But we weren't able to help him because visiting was so restricted," says Clare.
In April 2021, more than eight months after his fall, Bernie was discharged. Clare says, "He's gone through so much, and he's still recovering now. His life and the lives of his family changed forever that day, but he is now back living independently, with some support, so that's a massive achievement compared to what we feared the outcome might be."
Although the effects of his brain injury continue, thanks to your support, Bernie is able to live a life that some had not thought was going to be possible. "There are some things he can't do. But there's still a lot of the old him as well; he still likes to go down to the pub for a pint… or three."
Clare adds: "Dad's so thankful to all the people who helped look after him. From the Air Ambulance crew to the cleaners in the hospital; he absolutely appreciates everything that everyone has done for him over the months."
You can make a difference to people like Bernie.