John Dabell works as an aircraft refueller at Southampton airport and he regularly refuels the Hampshire and Isle of Wight Air Ambulance.  Prior to his accident, John's son Mike, or Crunchie as he is affectionately known, worked as an electrician. On 20th July 2018, Mike was working at Chilworth Science Park when John and his wife Helen received a call from Mike's wife, Leah, to say that Mike had been involved in an accident.
Below, Helen tells their story.
When we arrived at University Hospital Southampton (UHS), we realised just how seriously injured Mike was.  We later learned that Mike had received a horrendous electric shock that had knocked him off his ladder, resulting in him falling three metres from a suspended ceiling, landing on his head and sustaining a traumatic brain injury.  He was on his own at the time and of course he remembers nothing about his accident, or the events that followed.
What I do know is that the swift response of the Hampshire and Isle of Wight Air Ambulance and the medical intervention of Specialist Critical Care paramedic Jason Butler and Doctor Gordon Craig at the scene of Mike's accident, saved his life.
Road crew from South Central Ambulance Service were already doing a fantastic job when Jason and Gordon arrived at the scene in the Air Ambulance.  Both Jason and Gordon accompanied Mike to UHS in the land ambulance, as the hospital was only a 10-minute drive away and it was deemed quicker and safer to take him by road.  Once they had handed him over to the waiting trauma team in Accident and Emergency, the Air Ambulance relocated to UHS to take them both back to base.
Mike was later transferred to the hospital's Neuro Intensive Care Unit (ICU) and, two days later, in the early hours, he underwent a craniotomy that would save his life, yet again.  He spent four weeks in a coma, remaining in ICU for a further three weeks, during which time he had the bone replaced in his skull following his craniotomy.   At the time, it seemed that every day merged into the next and we all felt like we were on auto pilot.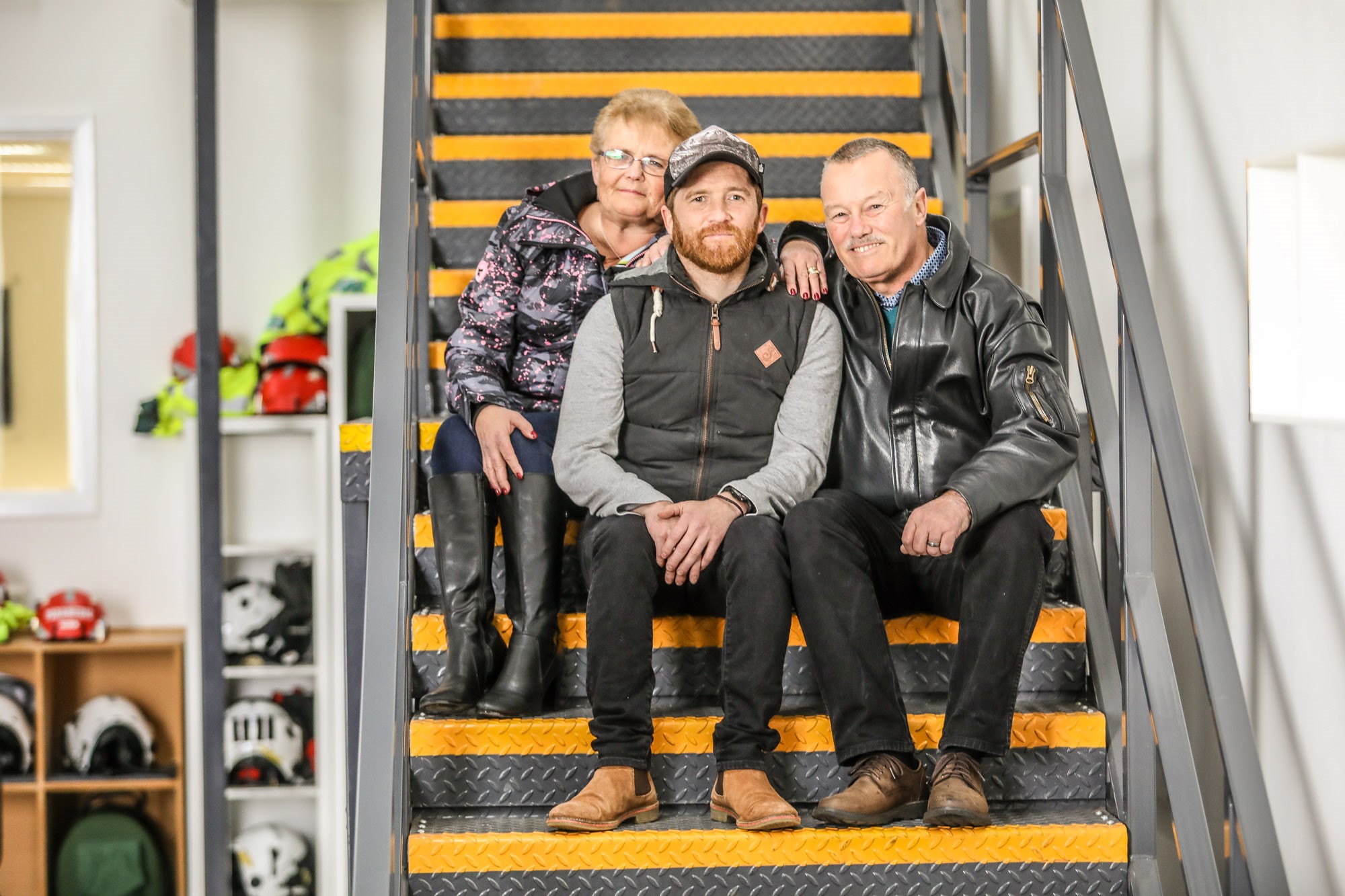 Mike's wife Leah was heavily pregnant at the time of his accident and whilst Mike was in ICU, Leah gave birth to their first child; Fynnley Jay Dabell.  Mike was obviously not able to be there for the birth, but Leah remained strong, even though Mike was not by her side.  It was a very difficult time for Leah, but we all rooted for her.  She was incredibly brave, and even though we knew that she was struggling deep down, she stayed positive for all of us.
After three weeks in the Neuro ward, Mike was eventually transferred to Snowdon House, a rehabilitation unit, where spent a further three weeks.
Mikes accident and ongoing recovery process has been, and continues to be, very distressing for all of us.  He's not the Mike that he was before his accident, and he still suffers from short term memory loss, but he is alive and with us; something we are all grateful for.   He gives us many reasons to remain positive too; he is going to the gym, cycling, running and walking regularly in order to get himself back to his former fitness levels and he hopes to return to work in the future.
John and I have been donating to the Air Ambulance for years, never knowing that one day the service would save his life.
"Without the Air Ambulance, Mike would most certainly have died that day and we are all truly grateful to all those involved in saving his life.   Of one thing I'm certain, and that is that we will continue to donate to this wonderful charity."
Got a story to share? We'd love to hear it.