Francesco is a devoted father to his 9 year old daughter. Originally from Italy, his job as Electrical Department Manager of an engineering company has taken him around the world; eight years ago, he and his family settled in the UK. A keen biker, Francesco joined the Widows Sons Chapter, the Freemasons international association of brothers who frequently ride and socialise together.
Francesco was completing his daily commute from Wimbledon to Wokingham, in December rush hour traffic, when he collided with a van and needed the specialist care of the Air Ambulance Critical Care Team. Below he tells his story.
It was a Tuesday in December, and only three days before the Widows Sons had successfully completed the 'Southampton Christmas Toy Run' in support of SCRATCH; delivering around 1,000 toys and more than £2,300 in cheques to underprivileged children of Southampton.
Still euphoric and full of pride from the achievement, I was riding home to Wokingham as I did every day. The commute from Wimbledon to Wokingham in rush hour had never been that easy, but that day everything was going smoothly. It was dark but the weather was dry and I had good visibility, unusual for an evening in December.
Traffic was light and I was just two miles from home when I entered the town centre. Suddenly I noticed something was wrong. A van was pulling out of a junction, fast approaching me. I veered right in an attempt to avoid the obstacle but the van was travelling in the same direction. I hit the brakes and braced for impact!
As I hit the bonnet, my body was thrown from my CB600F Honda Hornet across two lanes of traffic. I hit the ground with my left shoulder and seemed to bounce back up in the air before landing back on the pavement.
My breathing quickly became restricted and my body began seizing up, paralysing beneath me. As blood poured from my mouth and nose, I thought to myself, "I won't be walking home this evening."
To my relief, the driver of the car behind me was a paramedic and kept me as calm as the situation would allow. He immediately suspected serious damage to my spine and internal bleeding.
I began to lose track of time. My body felt as though it wasn't my own and sounds came into my head as if I were in a tunnel. I had no idea who was surrounding me or where the ambulance was.
I could see from the look on the faces of those around me that I had many reasons to be worried, then a doctor arrived.
The doctor arrived and explained he that was from Hampshire and Isle of Wight Air Ambulance before immediately getting to work on me. Suddenly, his voice was the only sound in my brain. He captured my attention and reassured me with every action.
It was only when I arrived at Royal Berkshire Hospital that I was told that, without the specialist care I received from the Hampshire and Isle of Wight Air Ambulance Critical Care Team, my leg would have been at risk of being amputated.
Six months on, I still struggle to walk. My left leg, which suffered multiple composite fractures, has been fitted with an external fixator; a metal frame made up of four rings bolted together and fixed on to my bones using 16 pins. It transfers the weight from the outside of my leg and keeps it in place whilst it heals.
The rest of my body has healed well, but I have come to realise that I may never be the same again. Something inside me is broken that can't be repaired. But my outlook on life remains positive. My beautiful daughter continues to be my focus and my aim is to ride again and to continue to support local charities such as Hampshire and Isle of Wight Air Ambulance.
But, for now, the train seems a kinder commute!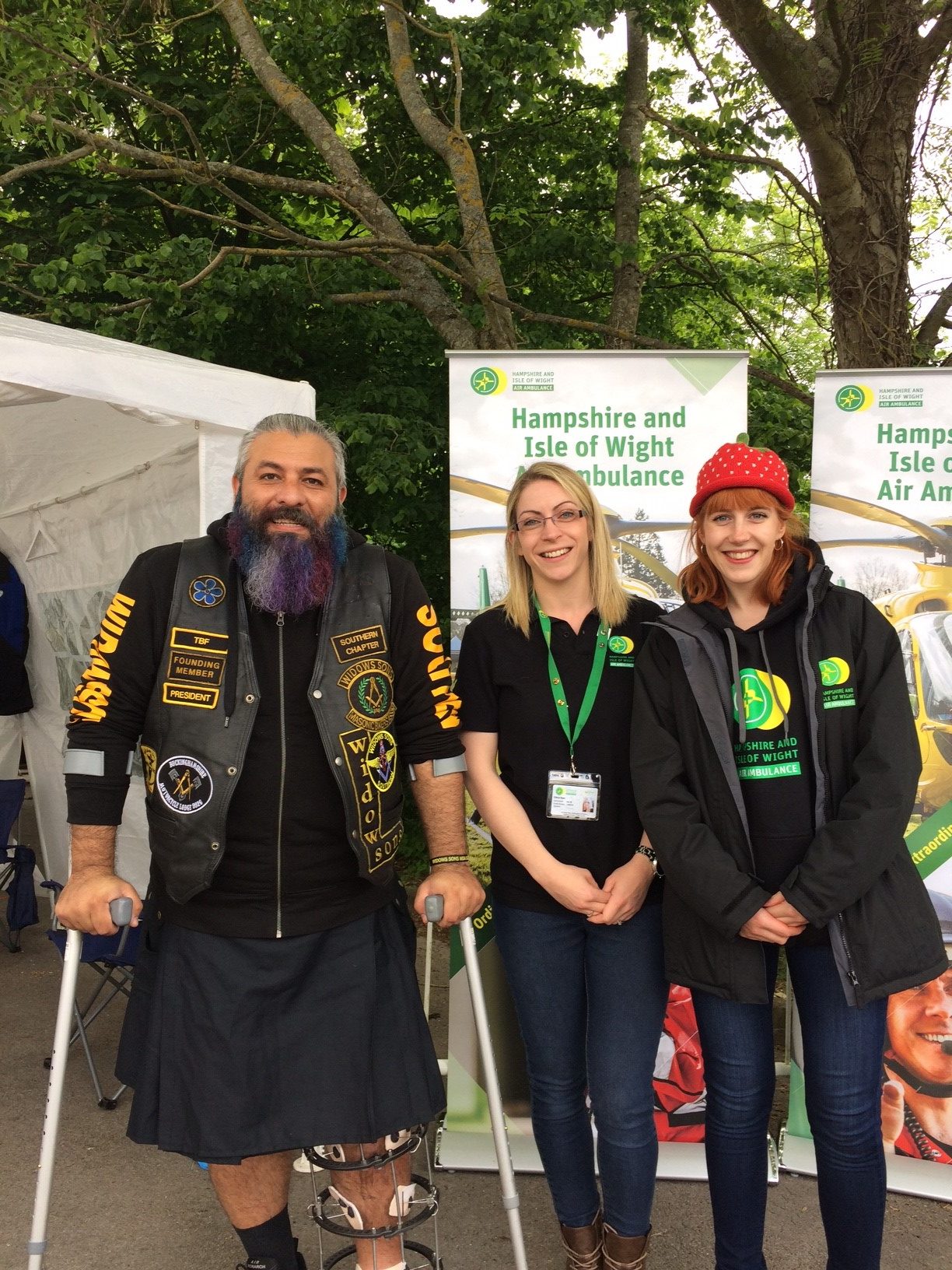 Read all about the Widows Sons Chapter's latest fundraising here.