Ten-year-old Connor Williams is mad for motocross! He has been riding bikes from the age of two and his family are always there to support him during his competitions and track days. Saturday 20th October 2018 started out as a normal day for the family. They set off with Connor to head to their local track for some training.
Connor told us:
"I had been riding and jumping well for most of the morning and then something went seriously wrong. I can't remember exactly how it happened, but I know I hit a jump and then crash landed. I was in a bad way. My step dad, Gavin, and my mum ran to me straight away and called 999."

"They tried to keep me still as I was complaining I couldn't breathe, and my ribs were hurting. The 999 operator told them help was on the way and minutes later, we could hear the Hampshire and Isle of Wight Air Ambulance circling over us. I was worried because they must've thought it was serious to have called for their Critical Care Team."
Both Critical Care Teams were dispatched to Connor. Dr Rob Summerhayes and Specialist Paramedic Nicola Hawkes responded in the Air Ambulance and Specialist Paramedic John Gamblin arrived in the Critical Care Team Vehicle.
The first aid team at the track explained what had happened and assisted the Critical Care Team. An ultrasound scan identified some internal bleeding in Connors abdomen, but they also had concerns for his chest. Connor was immobilised and extricated from the track for a rapid departure to University Hospital Southampton by ambulance. This enabled the team to continue to assess and treat him.
Connor remembers:
"Mum came with me in the ambulance and Gavin and my step-brother and sister, Max and Maddie, packed up and followed us to the hospital, picking up Nan and Grandad on the way. They must've all been so worried about me.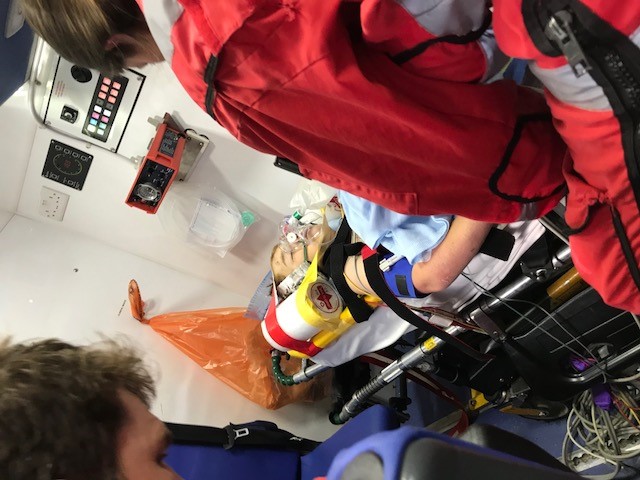 "The Critical Care Teams told my mum what to expect when we arrived at the hospital and sure enough, there were about 20 doctors waiting for me in the Major Trauma Unit. She'd never seen so many and although it was a very scary time, she was reassured so many people were there to help me.
"Mum gave me a big kiss and told me she loved me before they put me to sleep. I was taken for lots of scans before being taken to the Intensive Care Unit, where I was on a ventilator and hooked up to several machines to help my body rest. My family were told the next 24 hours were critical.
Doctors took Connor out of his medically induced coma the next day. He spent another 48 hours in Intensive Care before being taken to the High Dependency Unit where he was monitored for 7 days.
"I had damaged my kidney in a bad way. My liver and pancreas were also damaged, and I had squashed my bowel too. I didn't enjoy being on bed rest, but my family and friends kept me company with lots of visits.
"I was still feeling really ill, which they thought might have been my diabetes, but later found it was an infection in the main line in my leg. More medicine and treatment soon put me right and I was then moved to a ward before being allowed to go home.
"The whole time Mum, Gavin and my Nan had been staying at the hospital in the Ronald McDonald House, which was a huge help.
"I feel incredibly lucky to have had the fast response and advanced care from the Hampshire and Isle of Wight Air Ambulance Critical Care Teams and the doctors and paramedics who also helped me.
"My mum and I are very grateful to all of our friends and family who rallied around to support us during this time. Especially our friend Racheal, who was plating up lots of yummy homecooked meals for my family while I was in hospital.
"It's been six months since the accident and I'm now back on my bike racing, pretty much as though nothing's happened!"