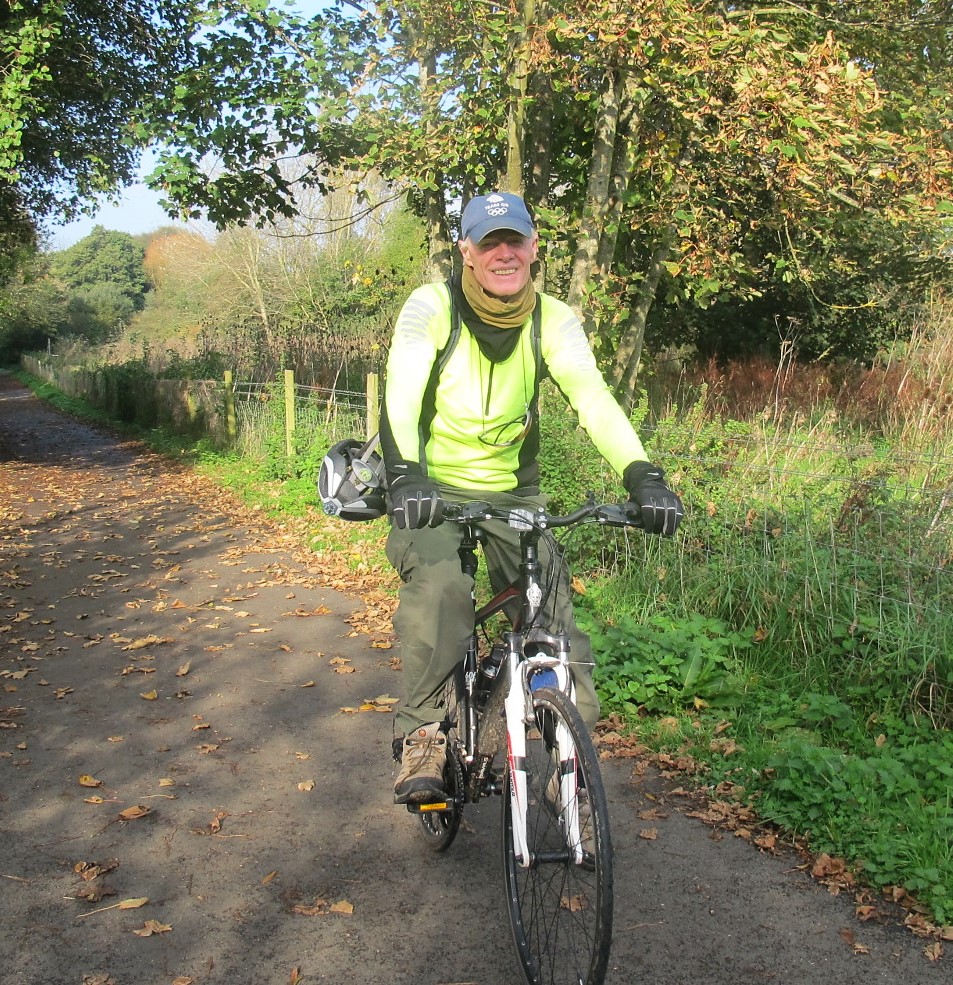 I was approaching retirement and decided to take up a hobby that would keep me active.

The Isle of Wight Cycling Festival was coming up and an "Easy Ride" was taking place at the Quay in Newport with the Wayfarers Cycling club.
I decided to join in with my not-so-good, second-hand bike! Even with slipping gears and trying to keep up with the pace at times, I was hooked!
Fast forward two years and many daily bike rides with the club on my new Hybrid bike, my fitness levels had increased. I was keeping up with the intermediate riders and tackling the big hills with little trouble.
Wednesday 14th June 2017 was a sunny day – perfect cycling conditions. I was all set for a lovely bike ride with the club. The ride was from Morrisons Lake to Quarr Abbey – about 15 miles. Our group of nine set off; enjoying the warmth of the sun and the beautiful blue skies. I was about 4 miles into the ride when I noticed I was running out of breath and energy. I dropped to the back of the cycling group and the back marker asked if I was alright. I said I would stop for a drink and take the shorter route, which isn't uncommon for someone to do on a ride, and meet them at the finish.
After a five-minute stop I was feeling quite light-headed but decided to go on and take things slowly. On the Sandown Road to Bembridge, passing the airport, I was starting to feel cold and clammy, despite the warm weather. Then I felt an aching pain in my stomach, just below the rib cage.
I picked up the pace to get up the hill by Bembridge Airport, but that was the last straw. I was gasping for breath and I knew something was seriously wrong.
I stopped and felt like I was going to pass out. The pain was getting stronger and I feared I had a ruptured blood vessel. Still gasping for breath, I began hitting my chest, about 8-10 times quite firmly. I remember thinking "I must keep breathing. I will not pass out here." I knew I was in trouble.
Luckily within a minute or two, a nice couple in a passing car stopped and asked if I needed an ambulance. I think they thought I'd had an accident and come off my bike. The lady called for an ambulance whilst her partner directed traffic around us. Within 5 minutes a district nurse pulled up and from the description of my symptoms, she said "I think you've had a heart attack."
All I could think about was how busy the ambulances on the Island can be and how long I would be there but one arrived about 12 minutes later and got me on board. The doctor who accompanied the ambulance suspected a heart attack as well and said that in order to limit the damage to the heart and to give me the best outcome, I needed to have an operation and have a stent fitted as soon as possible. We needed the Air Ambulance.
I could hear it landing at the nearby airport and their Critical Care Team strapped me onto a stretcher, hooked me up to their monitors and we took off. The crew reassured me the whole way and within 8-11 minutes we had landed on top of the Queen Alexandra Hospital in Portsmouth. Five minutes after that I was in theatre.
Hampshire and Isle of Wight Air Ambulance must take credit for cutting my treatment time to the bear minimum.
"The Air Ambulance is a vital service, particularly for the Isle of Wight. Being cut off from the mainland by that 35 minutes to an hour over a stretch of water; that could be the difference between life or death. We have all heard of people waiting for an ambulance on the island. When they are all busy they cannot just get some more from the next county."
I was released from hospital after a few days and continued to rest and recoup at home. Slowly but surely I began a slow walking exercise regime and changed my diet and medication, with the help of the hospital and Cardio Gym in Newport.
Now I'm cycling again, and I can do more than before. I have more stamina and can get up the hills that I used to stop halfway for a rest on!
That's all thanks to the couple who stopped to help me, the district nurse, ambulance crew, the Hampshire and Isle of Wight Air Ambulance, the surgeons, doctors and nurses at the QA and the rehabilitation team at the Cardio Gym in Newport.
The fact that the Air Ambulance is not NHS funded is all the more reason to give this vital service our support, as individuals, as a Cycle club, and as an Island.