Tony, Stewart and Richard set off on a Saturday morning to undertake an epic challenge to raise money for our Charity. The group kayaked 60 miles around the Isle of Wight, camping overnight on the Island, battling the tides and were even supported by dolphins on their two-day challenge.
The team are no strangers to completing impressive challenges for Charity, having previously kayaked around Portsea Island in Portsmouth to raise money for another charity. Since completing this back in June, their obvious "next big challenge would be to kayak around the Isle of Wight" says Tony.
Tony witnessed our life-saving service first-hand when our aircraft landed in his road last year. "I started to speak to the pilot, he was a lovely guy, and he told me all about the Charity and how it's not funded by the government.". Tony decided there and then, even telling the pilot, that one of his next challenges would be to raise money for HIOWAA.
The Charity was brought even closer to home for Tony, who is a business owner, when one of his customer's, friend, sadly died in an incident a couple of months ago. Because of this Tony says, "It was the ideal Charity to do it for and the family have donated quite a bit of money to our challenge".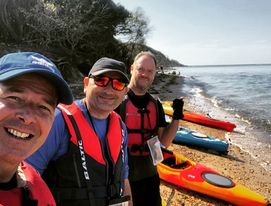 All three men are regular kayakers, but after three months of more intensive training, they set out Saturday morning from Port Solent at 6.30am towards The Needles. After an exhausting 10 hours of kayaking on the first day, and stopping at Brighstone to camp, they set out again Sunday morning, for another 10 hours, intense hours of paddling. The Sunday was a tougher day for group, after one member had to retire due to an injury. "The waves were huge, we did have the tide with us for most of the way, but when we got to Shanklin and Sandown the tide had turned, and it took us three hours to do just three miles. It was really hard". However, after 20 hours in total, they made it just short of Cowes and returned safely to Portsmouth on a support vessel.
Their epic two-day challenge has raised an incredible £965!
Tony's advice for anyone thinking of undertaking a challenge for the Charity is to "Just go for it!" "When you train for the challenge, you get out and meet people, join people who are also involved. It is also really good for your own mental wellbeing, as well as your physical health, which is what it was for us".
We are so grateful for people like Tony, Stewart and Richard, who decide to take on inspiring challenges to raise money to keep us flying and saving lives.
You can still show you support for Tony, Stewart and Richard and their impressive two-day challenge on their JustGiving page:
See the many ways you can support us here.