Since our first flight in 2007 your donations have allowed our team to treat the most critically ill and seriously injured patients in our region. An integral part of that team is Dr Chris Hill: a Pre-Hospital Emergency Medicine Doctor and Consultant in Emergency Medicine at University Hospital Southampton.
For eight years now, he has been flying and driving to those in desperate need of his care. But what is it that's so special about working in the helicopter emergency medical service (HEMS)? For Air Ambulance Week 2022, we spoke to Dr Hill about just that.
"You get to see patients at their most vulnerable," says Dr Hill.
"Thanks to the interventions we can provide, this is when you can make the greatest impact. It's a pure form of medicine – it's just you, your hands and limited equipment."
Dr Hill and the team provide hospital-level care in testing and often unfamiliar settings. From performing amputations to administering blood. Be it at the roadside or the bedside. In rain or sunshine.
How does it compare to working in a hospital?
"It's like chalk and cheese," he says. "It's far more physical, of course, but you can only be in one place at a time, whereas in hospital there is an endless stream of patients that need our attention. We are privileged to be able to give our patients maximum attention when we're by their side – something that is much harder to do in hospital."
Dr Hill previously worked with a different Air Ambulance, and so was used to aspects of the job when he first started working here.
How does each service and charity differ?
"It's all the little things that take time to learn. And that's what I remember frustrating me the most when I first started. It feels like you're trying to bake a fancy cake in some else's kitchen. You might know how to do it, but you can't find all the right equipment!"
Arriving for work on his first day, Dr Hill didn't have much time to learn – let alone bake a lemon drizzle – until his first mission came in. And it's one that will live long in the memory.
"The weather was awful. We deployed almost immediately after we signed on for duty. A children's ambulance had rolled over on the motorway after one of its tyres had blown out. You can image what was going through my mind on the way there."
He adds: "Luckily, the ambulance didn't have any patients on board, having already transferred a sick neonatal baby to the hospital. The two paramedics on board were injured, thankfully not seriously, just cuts and bruises. But you can see why I would remember that one though – we are used to seeing emergency vehicles at the scene of accidents, not ones that are the accident."
In those eight years, Dr Hill has seen a wave of changes at the charity – from the early days in a leaky portacabin to us operating from 7am through to 2am. All of which are changes you have made happen. But how do night and day shifts differ? Well, they're like night and day.
"Late shifts on the car are a total contrast to aircraft day shifts," he says. "Yes, it's dark, but it's the type of jobs we attend that are so different. Often more urban, usually more violence related – there is a different world at night across the cities in our patch.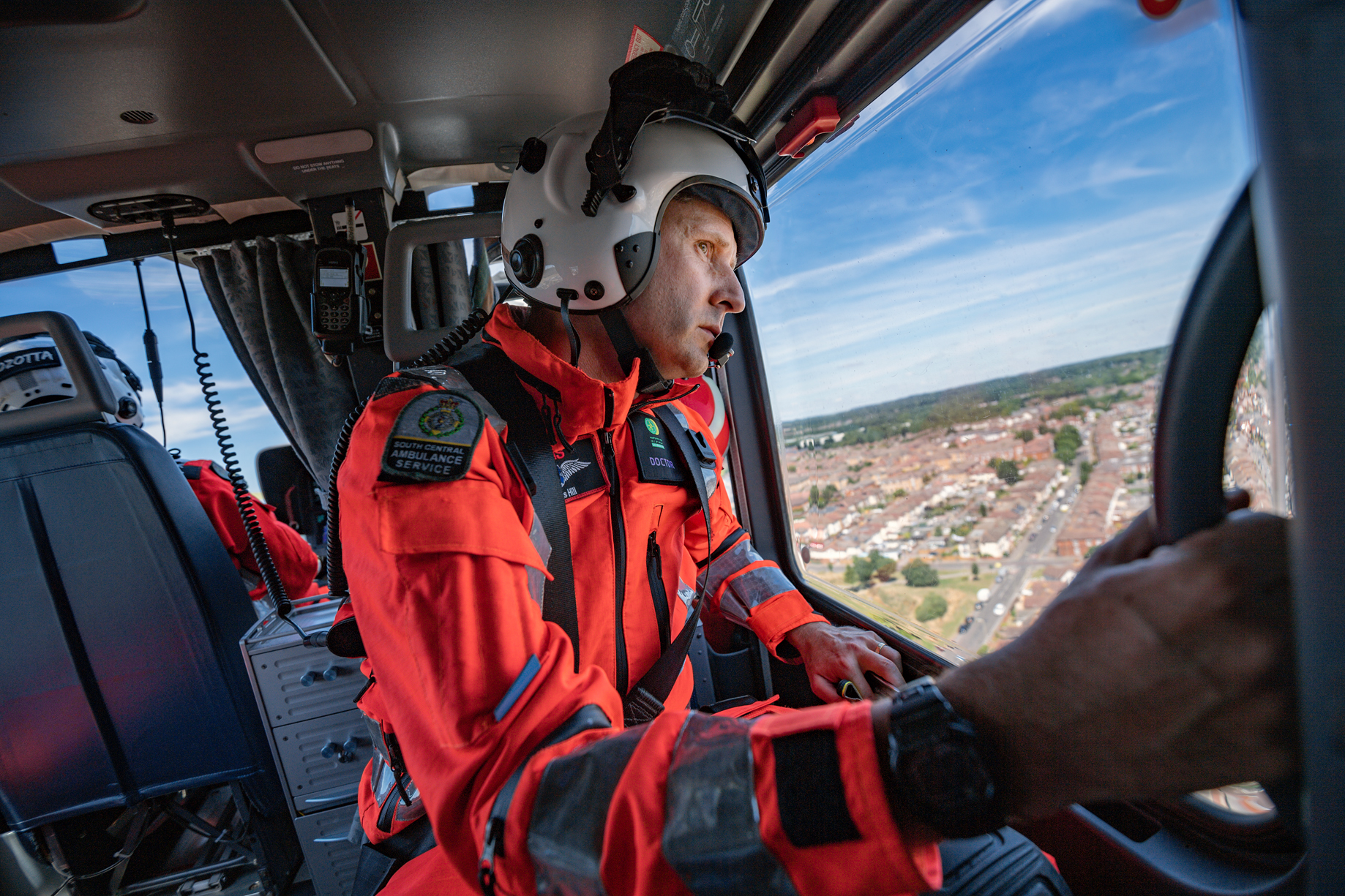 "Without the car we wouldn't be able to get to some of these patients, so it really makes a big difference. Generally, we use all the same equipment, but a decent head torch is an absolute must. I remember one mission in a forest at night with a cyclist who had a serious head injury. It was ink black. Luckily, our batteries didn't run out."
To give our patients the best possible treatment and outcome, there is one ingredient the crew need above all else.
"The teamwork within the unit is second to none. Everyone pulls together. There is a shared goal and many of our skills overlap beautifully to give our patients the best possible outcome."
As a vital member of the team, Dr Chris Hill and the rest of the crew couldn't do what they do best without you. Thank you.