Hampshire and Isle of Wight Air Ambulance Crew to benefit from pioneering new immersive simulation training facility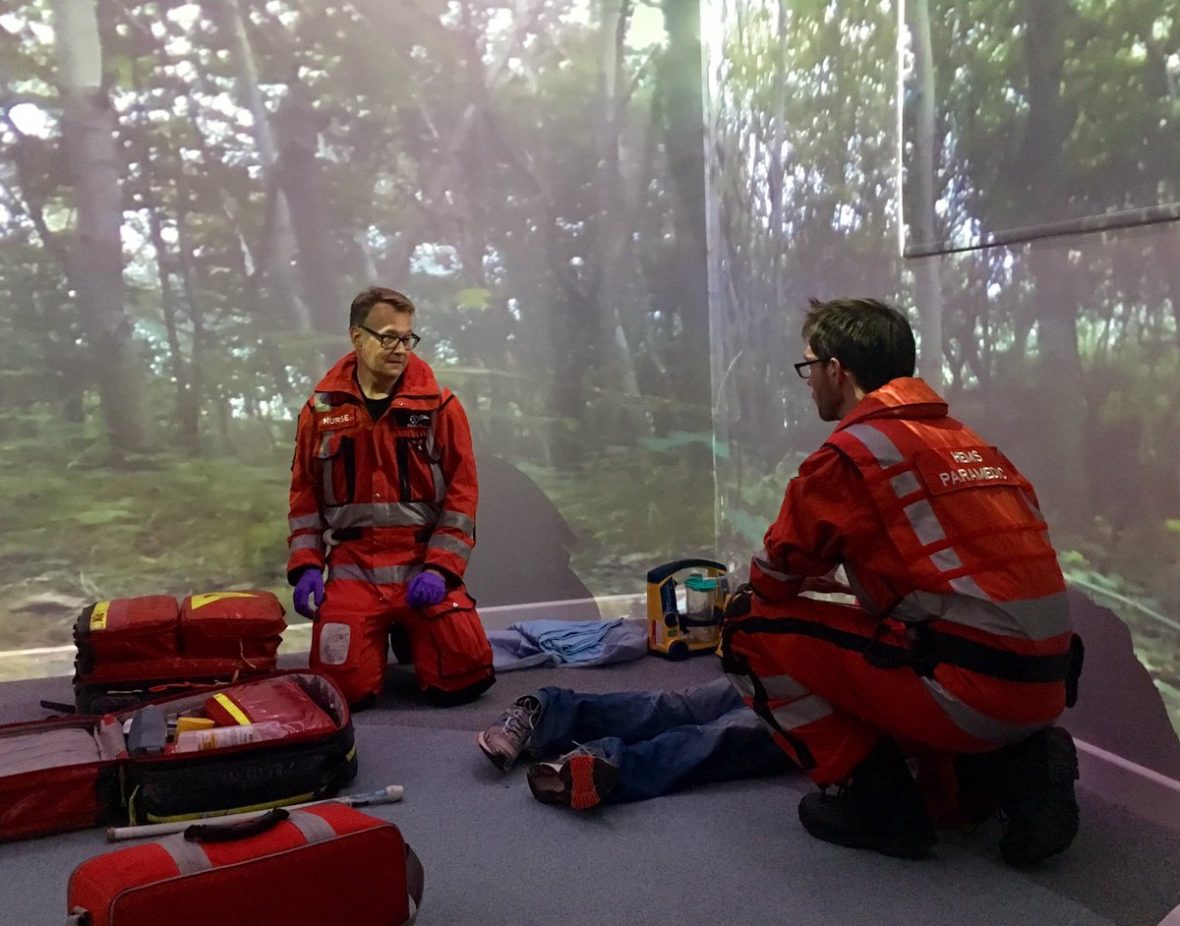 12th September 2016
Hampshire and Isle of Wight Air Ambulance (HIOWAA) crew will benefit from a pioneering new immersive simulation training facility at the charity's new airbase in Thruxton, near Andover.
The new facility provides a number of functionalities, including the ability to project a series of mock incident scenes, complete with movement and sound. The crew are currently able to simulate a multitude of different training environments; from a busy nightclub to a Hampshire forest.  HIOWAA will continue to add to the scenes available, including the New Forest, the Helipad at St Mary's Hospital Newport and the resuscitation room in University Hospital Southampton.
HIOWAA's Consultant Paramedic, Els Freshwater, commented 'This exciting piece of equipment allows us to safely practice many of the technical and non-technical skills that are required of a critical care team. At a recent training day we were able to simulate a number of scenarios, including a patient who had fallen in a forest, a cyclist who had been knocked off a bicycle on a busy road and a pedestrian who had been hit by a van in a residential area.'
Valuable learning takes place, not only during the scenarios, but also in the subsequent debrief, giving the crew time to reflect on their performance and how things might have been done differently if a similar situation had occurred in 'real life'. Formal training sessions will take place in the HIOWAA immersive training suite on a regular basis, as well as impromptu training sessions whilst the crew are on duty, allowing them to refine essential skills.
Other items of new kit include the iSimulate; a simulated patient monitor. The iSimulate allows Education Facilitators to provide realtime feedback on a patient's condition to the crew as they provide treatment. The more realistic the simulation, the more the crew are able to immerse themselves in the situation and practice important skills. Colleagues act as bystanders and training manikins are dressed in real clothes in order to make each scenario even more realistic.
HIOWAA CEO Alex Lochrane commented 'Hampshire and Isle of Wight Air Ambulance is one of the few Air Ambulance services in the country to benefit from this pioneering technology. The new immersive training suite is an example of our commitment to remain at the forefront of pre-hospital emergency care, continually improving the service that we are able to provide to our patients'.
ENDS
Enquiries: Hampshire and Isle of Wight Air Ambulance                                
Tel:  02380 333377 Caroline Tyree (PR and Communications Lead) caroline@hiowaa.org   Melissa Hare (Press Officer) melissa@hiowaa.org
Notes to Editors
Large file versions of all images are available Alex Lochrane is available for interview HIOWAA is the charity that delivers an advanced trauma team to critically injured people across Hampshire and the Isle of Wight.
Using an H135, the latest generation of EC135 helicopter, our doctor and paramedic team can be at a patient's side within minutes, providing life-saving medical interventions, such as blood transfusions and anaesthesia at the roadside. We fly 7 days a week and attend to an average of 2-3 missions per day, many of them life saving. Our helicopter can be anywhere within Hampshire in 15 minutes and anywhere within the Isle of Wight within 20 minutes.  It can land in areas the size of a tennis court and on almost any terrain.
In early 2016 HIOWAA commenced night helicopter emergency medicine (HEMS) operations and is now able to undertake emergency missions during the hours of darkness, providing emergency medical support where and when it is needed most.
HIOWAA receives no Government funding, and relies on the generosity of individuals and organisations to help save lives. As a charity we only receive help through the secondment of paramedics from our key partner, South Central Ambulance Service NHS Foundation Trust – SCAS. To keep the Air Ambulance flying we need to raise approximately £230,000 per month.
Our medical achievements
 We now carry blood and plasma on board.
We have doctors on board for the majority of our missions.
We operate a modern H135 aircraft.
In 2016 we began night HEMS operations, enabling us to undertake emergency missions during the hours of darkness, reaching sick and injured people when they need us most.
 Our current fundraising aims
 To maintain the current service.
To have a doctor on board for every mission.
To deliver extended flying hours, working towards a 24 hour service.
Our statistics

We fly 7 days a week, 365 days a year, both day and night.
RTC                                         33%
Cardiac/collapse                  25%
Sports and falls                     18%
Horse riding                          16%
Industrial injury                    4%
Transfers                               3%
To find out more, please visit www.hiowaa.org