Hampshire and Isle of Wight Air Ambulance 10th Anniversary Fun Day draws the crowds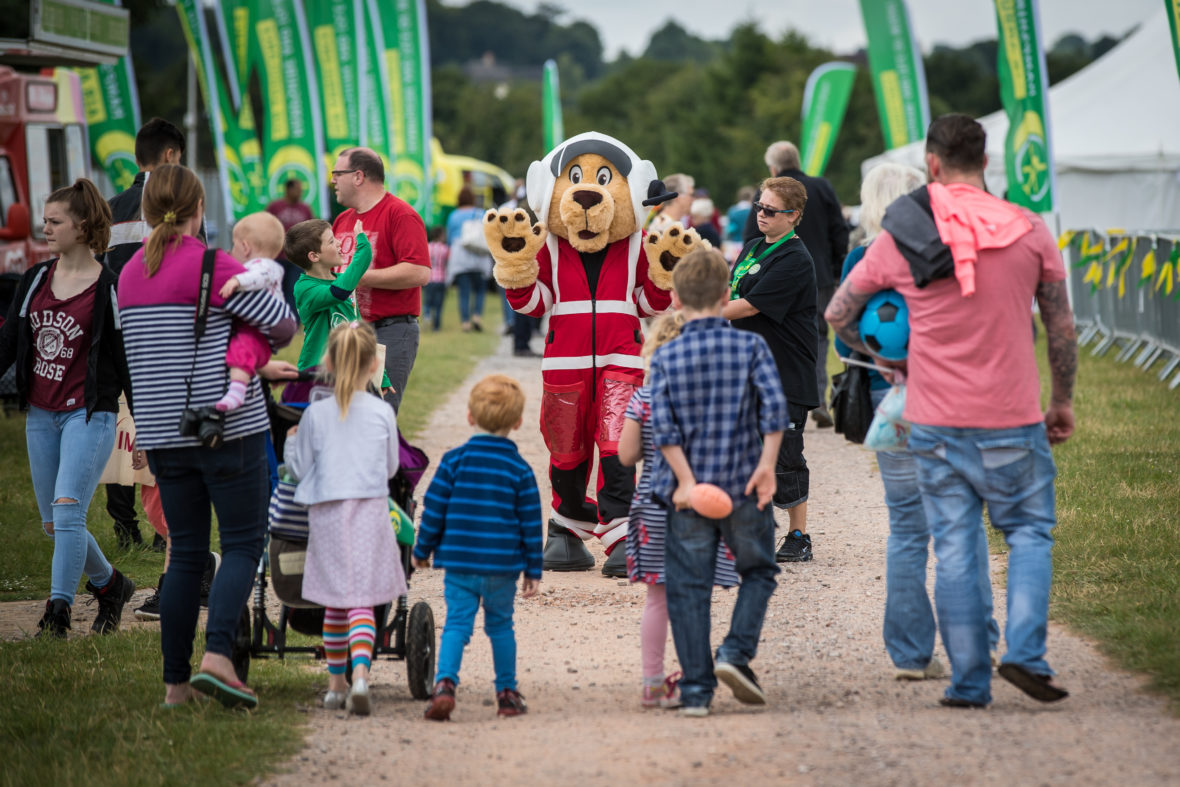 Over 2,000 visitors turned up at Thruxton Motorsports Centre on Saturday 1st July to join the Hampshire and Isle of Wight Air Ambulance (HIOWAA) 10th Birthday celebrations, raising over £5,000 for the charity.  The sun shone as children enjoyed traditional fun fair rides, arts and crafts and circus skills, whilst live music played in the arena and the proud owners paraded their dogs at the first HIOWAA dog show.  The celebrations marked 10 years to the day since Hampshire and Isle of Wight Air Ambulance made its first operational flight on 1st July 2007.
The Hampshire and Isle of Wight Air Ambulance was present throughout the day and members of the Critical Care Team were on hand to speak to the public about their
life-saving work.  As a show of appreciation, HIOWAA CEO Alex Lochrane presented the team with a card filled with messages of thanks gathered from former patients and supporters.
HIOWAA CEO Alex Lochrane commented 'Our 10th Birthday celebrations were a resounding success and we are delighted to have raised over £5,000.  Just as importantly, the day provided the opportunity to celebrate our life saving service and to look back on how it has evolved over the past 10 years.  Thank you to everyone who came to show their support and for being a part of our very special day'.
END
Enquiries:
Hampshire and Isle of Wight Air Ambulance                                 Tel:  02380 333377
Caroline Tyree (PR and Communications Lead) caroline@hiowaa.org
Melissa Hare (Press Officer) melissa@hiowaa.org
Notes to Editors
Large file versions of all images are available
Alex Lochrane is available for interview
HIOWAA is the charity that delivers an advanced critical care team to people in Hampshire and the Isle of Wight when they need it most.  Available both day and night, 365 days a year, the Air Ambulance critical care team is called out many times a day to attend to road traffic collisions, sporting accidents, collapses and many other incidents. Highly skilled crews of Doctors, Paramedics and Pilots can be at the scene of an incident within minutes, ready to deliver the same level of care that you would expect from a hospital emergency department.   Using an H135, the latest generation of EC135 helicopter We fly 7 days a week and attend to an average of 2-3 missions per day, many of them life saving.
The Air Ambulance can be anywhere within Hampshire in 15 minutes and anywhere within the Isle of Wight within 20 minutes.  It can land in areas the size of a tennis court and on almost any terrain. The charity also operates a critical care team vehicle, crewed by a team of HIOWAA doctors and paramedics, with parallel capability to the Air Ambulance and able to get to the more difficult to reach urban areas.
In early 2016 HIOWAA commenced night Helicopter Emergency Medical Services (HEMS) operations and is now able to undertake emergency missions during the hours of darkness, providing emergency medical support where and when it is needed most.
HIOWAA provides a vital life line to the Isle of Wight, bringing the emergency department to critically injured patients and transferring them to specialist hospitals on the mainland when necessary.  In the financial year for Oct 2015 – Sept 2016, nearly 21% of total missions were in support of the Isle of Wight. HIOWAA is able to undertake night transfers from the Isle of Wight until 2am.
HIOWAA receives no Government funding, and relies on the generosity of individuals and organisations to help save lives.  As a charity we only receive help through the secondment of paramedics from our key partner, South Central Ambulance Service NHS Foundation Trust – SCAS. To keep the Air Ambulance flying we need to raise over £9,000 a day.
Our medical achievements
We carry blood on board.
We have doctors on board for the majority of our missions.
We operate a modern H135 aircraft.
In 2016 we began night Helicopter Emergency Medical (HEMS) operations, enabling us to undertake emergency missions during the hours of darkness, reaching sick and injured people when they need us most.
In 2017 our critical care team vehicle became operational.
Our current fundraising aims
To maintain the current service.
To have a doctor on board for every mission.
To deliver extended flying hours, working towards a 24 hour service.
Our statistics
We fly 7 days a week, 365 days a year, both day and night.
RTC 33%
Cardiac/collapse                 25%
Sports and falls                 18%
Horse riding 16%
Industrial injury 4%
Transfers 3%
To find out more, please visit www.hiowaa.org