Former patient Danielle Bartley raises almost £2,000 for Hampshire and Isle of Wight Air Ambulance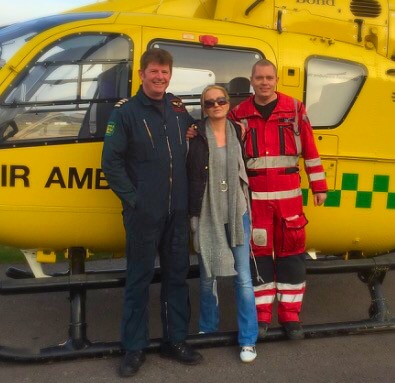 In November 2014, Danielle Bartley was involved in a serious road traffic collision which left her fighting for her life.  Tragically, she ended up having her right arm amputated just below the elbow, but Danielle openly admits that, without the help of the Hampshire and Isle of Wight Air Ambulance (HIOWAA) crew at the scene, she would not be alive today.
On Wednesday 16th September, less than a year after her accident, Danielle will be climbing a walkway over the top of the former Millennium Dome in London in order to raise money for HIOWAA.   Prone to vertigo, she will be confronting one of her greatest fears as she conquers the grand peak of the O2 at 52 metres.  Danielle's climb is expected to take her approximately 90 minutes.
'This is my way of saying 'thank you' to Hampshire and Isle of Wight Air Ambulance.  I would never have made it by road ambulance, and without the Air Ambulance, my son wouldn't have his Mum, his only parent'.
Friends, family and supporters have rallied to the cause and have donated almost £2,000 in sponsorship to Danielle's Justgiving page:  www.justgiving.com/Danielle-Bartley
'Ten months after an accident that almost cost her her life, Danielle is undertaking a challenge that many would find terrifying at the best of times', commented Alex Lochrane, CEO of Hampshire and Isle of Wight Air Ambulance. 'She has raised a phenomenal amount of money for the charity and I am full of nothing but admiration'.
Danielle recounts her story in a short film, which can found on the Hampshire and Isle of Wight Air Ambulance website:  www.hiow-airambulance.org.uk/danielles-story
ENDS
Enquiries:
Hampshire and Isle of Wight Air Ambulance                                         Tel:  02380 333377
Caroline Tyree (Communications Co-ordinator) Melissa Hare (Press Officer)
caroline@hiow-airambulance.org.uk  Melissa@hiow-airambulance.org.uk
Notes to Editors
Large file versions of all images are available
Sherie Williams Ellen is available for interview
About Hampshire and Isle of Wight Air Ambulance (www.hiow-airambulance.org.uk)
HIOWAA is the charity that delivers an advanced trauma team to critically injured people across Hampshire and the Isle of Wight.
Using an EC135 helicopter, our doctor and paramedic team can be at a patient's side within minutes, providing life-saving medical interventions, such as blood transfusions and anaesthesia at the roadside.  We fly 7 days a week and attend to an average of 2-3 missions per day, many of them life saving.
Our helicopter can be anywhere within Hampshire in 15 minutes and anywhere within the Isle of Wight within 20 minutes.  It can land in areas the size of a tennis court and on almost any terrain.
HIOWAA receives no Government funding, and relies on the generosity of individuals and organisations to help save lives.  As a charity we only receive help through the secondment of paramedics from our key partner, South Central Ambulance Service NHS Foundation Trust – SCAS. To keep the Air Ambulance flying we need to raise over £4000 per day.
Our medical achievements
We now carry blood on board.
We have doctors on board for the majority of our missions.
We operate a modern EC135 T2 aircraft.
Our current fundraising aims
To maintain the current service.
To have a doctor on board for every mission.
To deliver full night HEMS (Helicopter Emergency Medical Service) capability.
To deliver extended flying hours, working towards a 24 hour service.
Our statistics

Since the Air Ambulance became operational on 1st July 2007, it has undertaken 6066 missions.  We fly 7 days a week, 365 days a year.
RTC 33%
Cardiac/collapse 25%
Sports and falls 18%
Horse riding 16%
Industrial injury 4%
Transfers 3%
To find out more, please visit www.hiowaa.org