Fenn Night Vision take Hampshire and Isle of Wight Air Ambulance a step closer to night flying.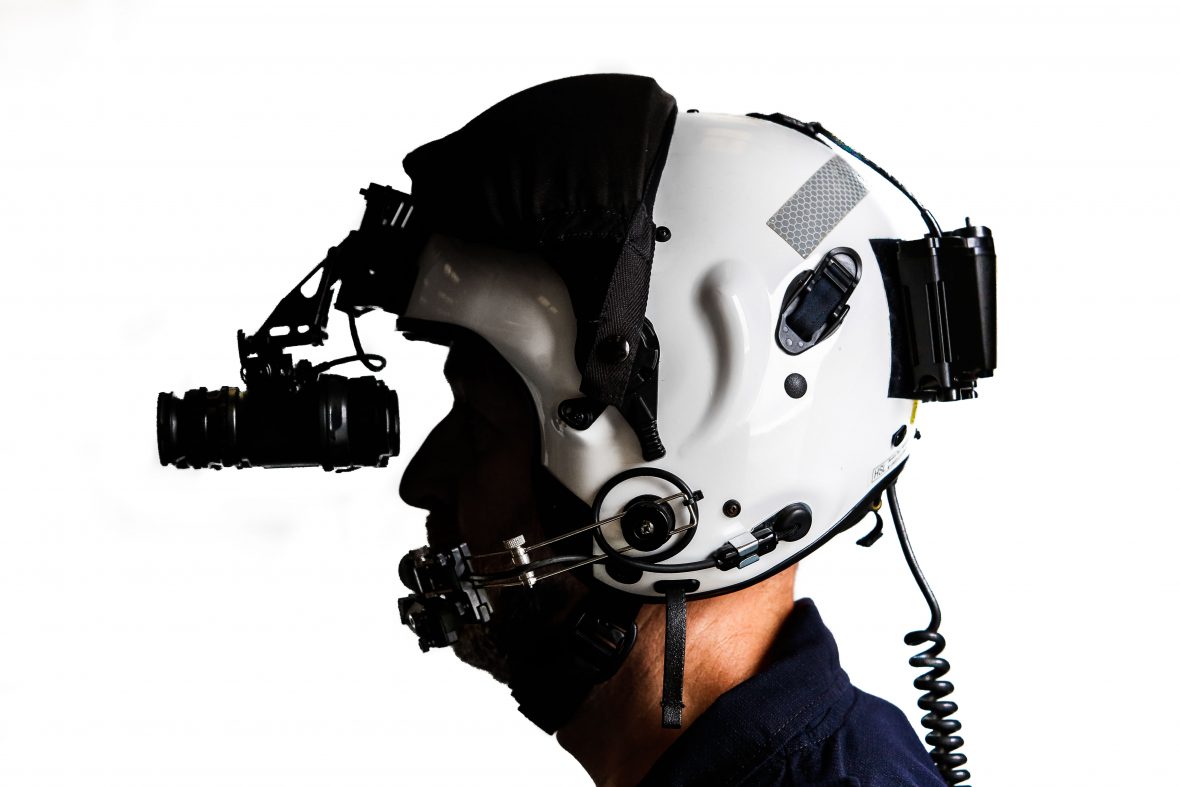 Fenn Night Vision, our country's leading designer and manufacturer of Night Vision Goggles (NVG's) for aviation, will be supplying Hampshire and Isle of Wight Air Ambulance (HIOWAA) with NVG's when the charity begins night flying later this year.  The HIOWAA crew will be among the first to use the latest edition to the Fenn range of NVG's, the Fenn NG700+.
The goggles work using a process of image intensification, and will have excellent light gathering power and a wide field of view, giving exceptional performance in low light conditions.
Colin Light, Managing Director of Fenn Night Vision commented;
'Our latest NVG's are simply the best we have ever designed.  They have a wide field of view which helps to increase the operator's situational awareness and provide exceptional performance in dark conditions.  We hope that our latest technology will benefit the crews who operate in an incredibly challenging and pressured environment, saving lives. Our aim is to help them in the best way we can, to see better at night.'
Fenn Night Vision is a hi-tech company specialising in the research, development and production of night vision devices for aviation and is the leading supplier of NVGs to the UK Ministry of Defence and Police Air Support Units.  Fenn Night Vision, who recently became a HIOWAA Gold Level Corporate Partner, will be supplying four pairs of NVG's to the charity, three of which they have generously donated.
Alex Lochrane, HIOWAA CEO, commented 'HIOWAA is committed to driving development in helicopter emergency medical services (HEMS) and I am delighted to be able to announce our partnership with Fenn Night Vision.  They are passionate about their product and I am honoured that our crew will be the first use the Fenn NG700+.'
Enquiries:
Hampshire and Isle of Wight Air Ambulance                                      Tel:  02380 333377
Caroline Tyree (Communications Co-ordinator) Melissa Hare (Press Officer)
caroline@hiow-airambulance.org.uk  Melissa@hiow-airambulance.org.uk
Notes to Editors
Large file versions of all images are available
Alex Lochrane is available for interview
About Hampshire and Isle of Wight Air Ambulance (www.hiow-airambulance.org.uk)
HIOWAA is the charity that delivers an advanced trauma team to critically injured people across Hampshire and the Isle of Wight.
Using an EC135 helicopter, our doctor and paramedic team can be at a patient's side within minutes, providing life-saving medical interventions, such as blood transfusions and anaesthesia at the roadside.  We fly 7 days a week and attend to an average of 2-3 missions per day, many of them life saving.
Our helicopter can be anywhere within Hampshire in 15 minutes and anywhere within the Isle of Wight within 20 minutes.  It can land in areas the size of a tennis court and on almost any terrain.
HIOWAA receives no Government funding, and relies on the generosity of individuals and organisations to help save lives.  As a charity we only receive help through the secondment of paramedics from our key partner, South Central Ambulance Service NHS Foundation Trust – SCAS. To keep the Air Ambulance flying we need to raise over £4000 per day.
Our medical achievements
We now carry blood on board.
We have doctors on board for the majority of our missions.
We operate a modern EC135 T2 aircraft.
Our current fundraising aims
To maintain the current service.
To have a doctor on board for every mission.
To deliver full night HEMS (Helicopter Emergency Medical Service) capability.
To deliver extended flying hours, working towards a 24 hour service.
Our statistics

Since the Air Ambulance became operational on 1st July 2007, it has undertaken 6028 missions.  We fly 7 days a week, 365 days a year.
RTC 33%
Cardiac/collapse 25%
Sports and falls 18%
Horse riding 16%
Industrial injury 4%
Transfers 3%
To find out more, please visit www.hiowaa.org