When lockdown hit last year, Mirela, decided to form a running club, under the social distancing restrictions at the time. From five members and a year and a half later, their running club, The Flamingos, are still meeting and running together. Their latest challenge is to take part in our 5K run, Dash in the Dark, to raise money for our life-saving service.
Before The Flamingos, Mirela and the rest of the team previously met at a bootcamp in Eastleigh. However, when Covid-19 social distancing restrictions were put in place, gathering such as these were put on hold indefinitely. When restrictions were eased and outdoor exercise was allowed to return in small numbers, Mirela, couldn't wait to invite her friends to join her for a run.
The group was formed for people with varying levels of running skill, with the intention of encouraging those who want to get into running. "We have been going for about a year and a half now, it's just a group of ladies, that meet up every Tuesday", says Mirela.
The Flamingos have since grown in size. Their running name was born from a combination of the park in Eastleigh they meet up in, and because Mirela's bright pink hair. "I like pink, and my hair is pink, so they decided to call the group The Flamingos".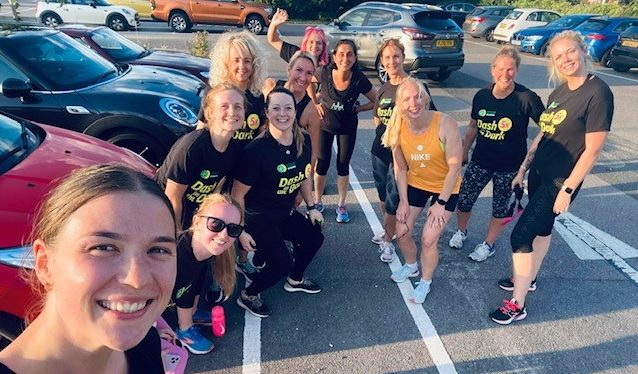 After two people in the group completed their first 5K without stopping, Mirela decided it was time for the whole group to tackle a 5K together, "I thought, let's all sign up and do Dash in the Dark". In 2019, Mirela previously took part in another event for Hampshire and Isle of Wight Air Ambulance (HIOWAA), The Plane Pull, and was searching for another HIOWAA fundraiser to get involved with. After hearing about Dash in the Dark, Mirela, shared the event with the group and now 12 of The Flamingos are signed up, and they intend to get into the Dash in the Dark spirit, "we all plan to wear pink tutus and be really bright, think 80's. We want to be noticeable!".
As well as encouraging each other on their own running goals, The Flamingos also want to raise as much money as they possibly can for HIOWAA. "I didn't realise until recently that it is a Charity, and it relies entirely on fundraising from the public.", says Mirela.
The rapid response of HIOWAA was recently brought close to home for Mirela, when she witnessed the Air Ambulance in action at another event she was attending. "I saw the helicopter hovering around and I thought, 'oh my god, these are the people I am raising money for'".
The Flamingos aim to spread awareness of HIOWAA and share the importance of fundraising, especially during the pandemic.
Support The Flamingos and their Dash in the Dark here.
Complete your own 5K Dash in the Dark and help save lives. Sign up today.