Meet HEMS Paramedic Dolly. She joined the team at the height of the Covid-19 pandemic and has been flying on board Helimed 56 responding to emergencies across the region for the past six months. We caught up with Dolly to learn more about joining HIOWAA during a global pandemic.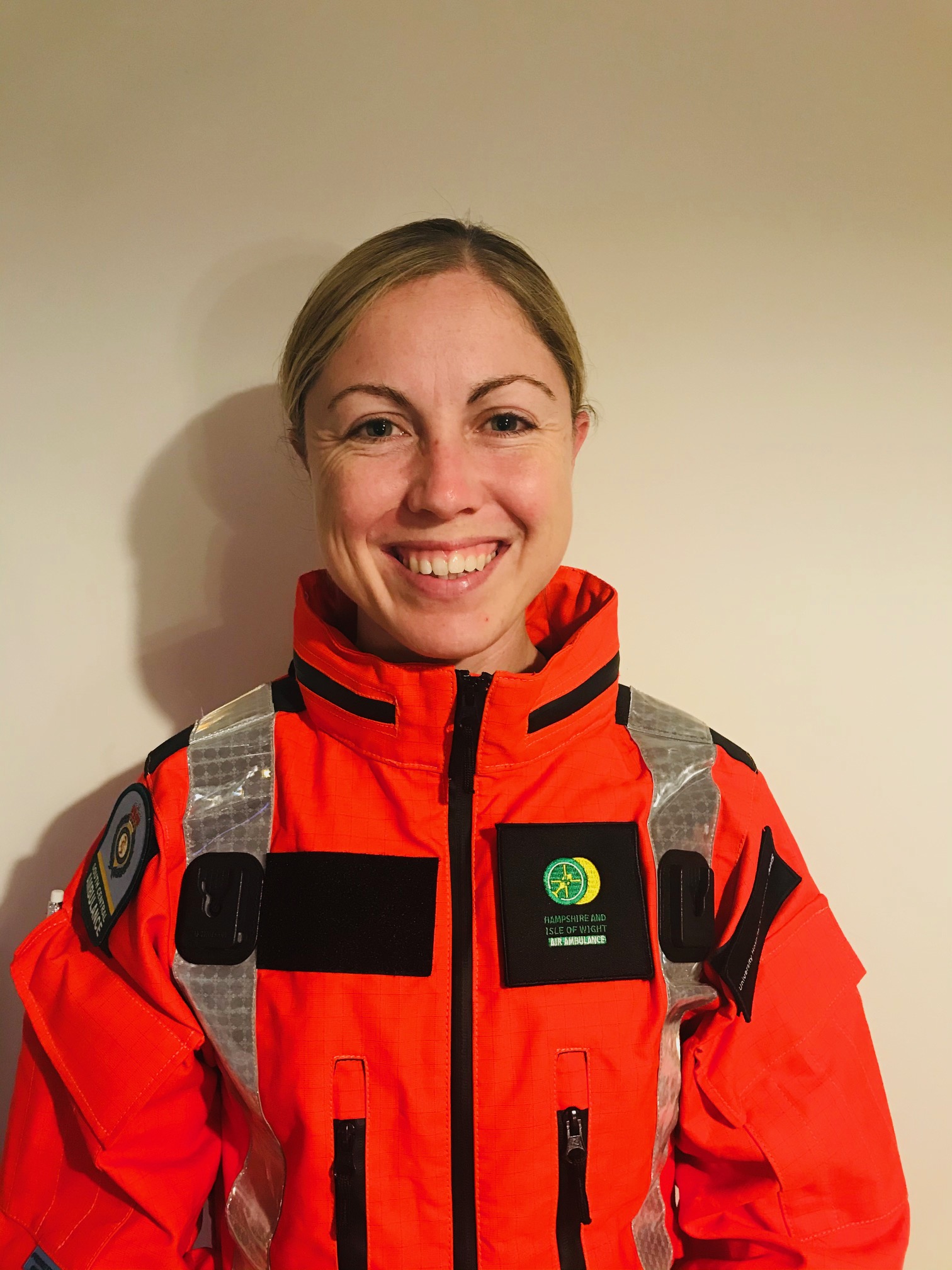 Let's start at the beginning: what did you want to be when you were growing up?
I wanted to be a vet when I was much younger, and then in my teens I wanted to be a drama teacher. Still not sure how I ended up here!
Could you tell us about your background in medicine?
I started as a foundation science degree paramedic 10 years ago studying at the University of the West of England in Bristol. After working as a paramedic for a while, I was lucky to be one of the first cohort of specialist paramedics in urgent care trained through Oxford Brookes University. Through this, I became aware of the role of an advanced clinical practitioner (ACP) and was fortunate enough to start this training at University Hospital Southampton (UHS) three years ago. When HIOWAA partnered with UHS, my career aspirations of working as a HEMS paramedic became a reality. Six months ago, I started to do a minimum of two shifts a month with HIOWAA as well as working full time as a trainee ACP in the UHS emergency department.
You joined HIOWAA during a pivotal time for both the service and the country; how has it been getting to grips with your role and working in this field throughout the pandemic?
It has been a very interesting time to work in a clinical field. I am amazed by the ability of clinicians to adapt and the advances in medicine prompted by the pandemic. In many ways, Covid-19 has been a clinical leveller, with consultants and trainees all trying to learn the same lessons for a new disease. Because of this it has been a good time to join the team, not only because I felt that I could help boost the staffing required for crews of three but because we are all learning together. Of course, I am looking forward to the social BBQs and team training that I have missed.
What are the key differences and challenges between treating a patient in hospital and a pre-hospital setting?
Both areas have their own set of benefits and challenges. In ED there are lots of extra pairs of hands when you need them, resources that don't have to be carried in a bag, and patients who are in nicely lit, warm and dry environment. But you miss all the nuances of scene information, mechanism of injury and a patient's social situation. Pre-hospital care has a lot of environmental and scene considerations, more limited equipment, and medicines and patients who are even more undifferentiated than the ED. At the heart of it though, both settings have people who want, and are trained, to help and patients who need help.
What's the best piece of advice you've ever been given?
Always try to be in the room with someone smarter than you and you will continue to learn for the rest of your life.
What quote do you live by?
Live passionately, love completely, believe intelligently.