The Marathon des Sables is a six-day 250km ultramarathon, held every year in Southern Morocco, in the Sahara Desert. It has been called the toughest race on earth. In April this year, Conor McQuaid decided to take on the challenge himself to raise money for Hampshire and Isle of Wight Air Ambulance (HIOWAA).
Why did you choose to support HIOWAA?
Ceire, my older sister, was in a serious motorcycle accident. She was in a really bad way, but thanks to the work of Hampshire and Isle of Wight Air Ambulance, she was kept alive and taken to hospital. Only a few days later, she was able to leave hospital. The Charity Critical Care Team did an amazing job and I was just glad to have my sister back. Anything I could do to help was going to be worth it.
Why did you decide to take on the Marathon des Sables?
After the Air Ambulance saved my sister's life, I wanted to try to do something special to raise money for them. I heard about the Marathon des Sables years ago and always thought it would be an unusual challenge.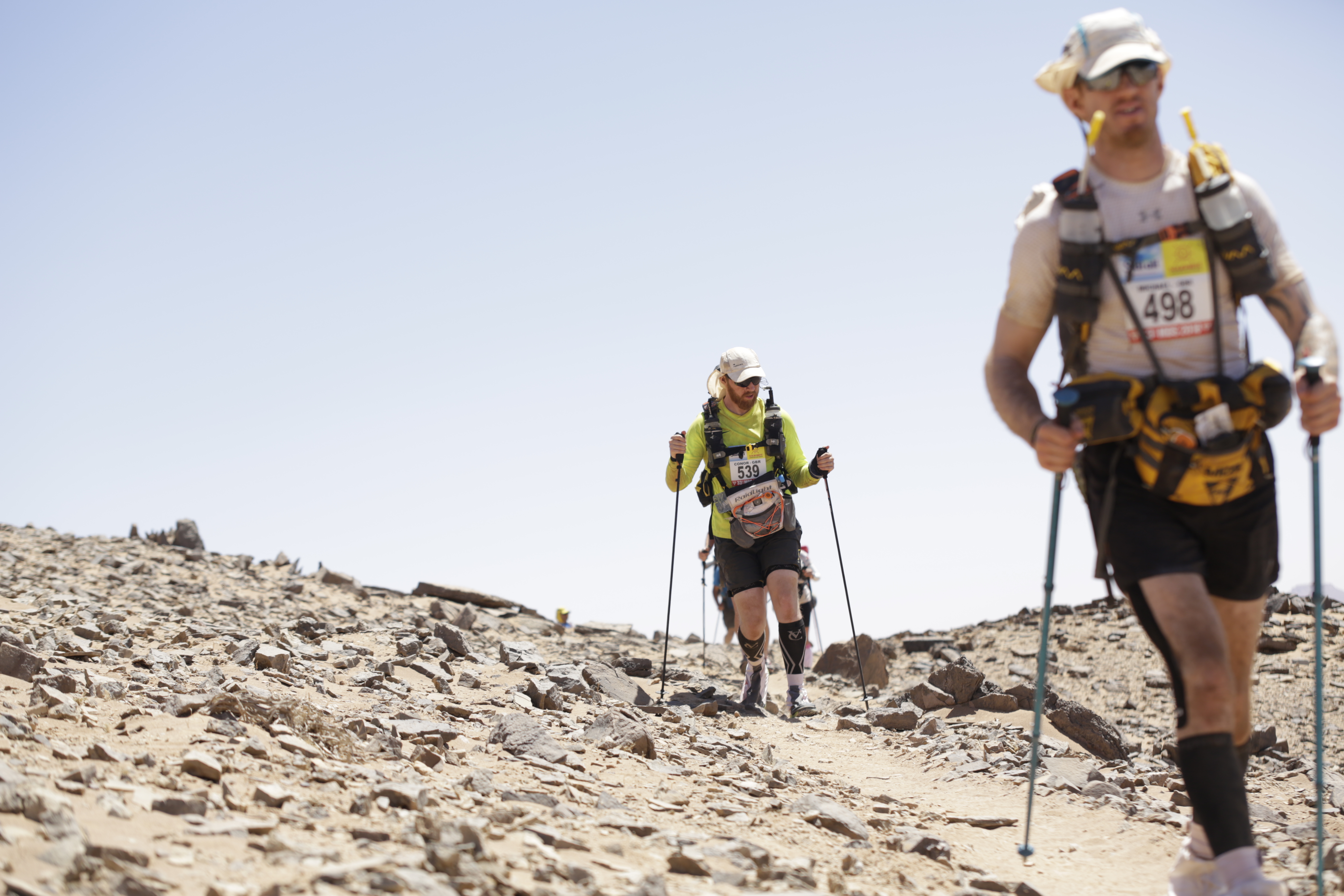 What was the response from your friends and family when you told them what you were doing?
They all thought I was crazy. Most of them tried to talk me out of it, or to get me to postpone until the following year, but my girlfriend got me a Garmin watch and told me to start training! The limited opportunities that I had to speak to her as I ran really helped to get me to the finish line.
How did you find the challenge?
The race is split over six days. In the first three days you have to run 30-40km a day over the most difficult and dangerous terrain of the course. You face kilometre after kilometre of sand dunes, which suck the energy from your legs. You cross towering jebels, or small mountains, during the heat of the midday sun, at temperatures of up to 40c . All the time you're desperately trying out figure out how much water you should take before the next check point or whether you're moving fast enough not to get kicked off the course.
After the first day, which I took slowly and steadily with a tent mate, I got extremely bad blisters which became infected and began to eat away at my toes. If it wasn't for the medical team, or the army medics in my tent, I probably wouldn't have been able to finish the race. They helped strap up my feet, gave me the antibiotics I needed for the infection and helped keep my moral up in the evenings.
On the longest day, you have 35 hours to complete 86km, that's the equivalent of two marathons combined. If you're a front runner, you can cover this distance in 8-9 hours. I took me 23 hours.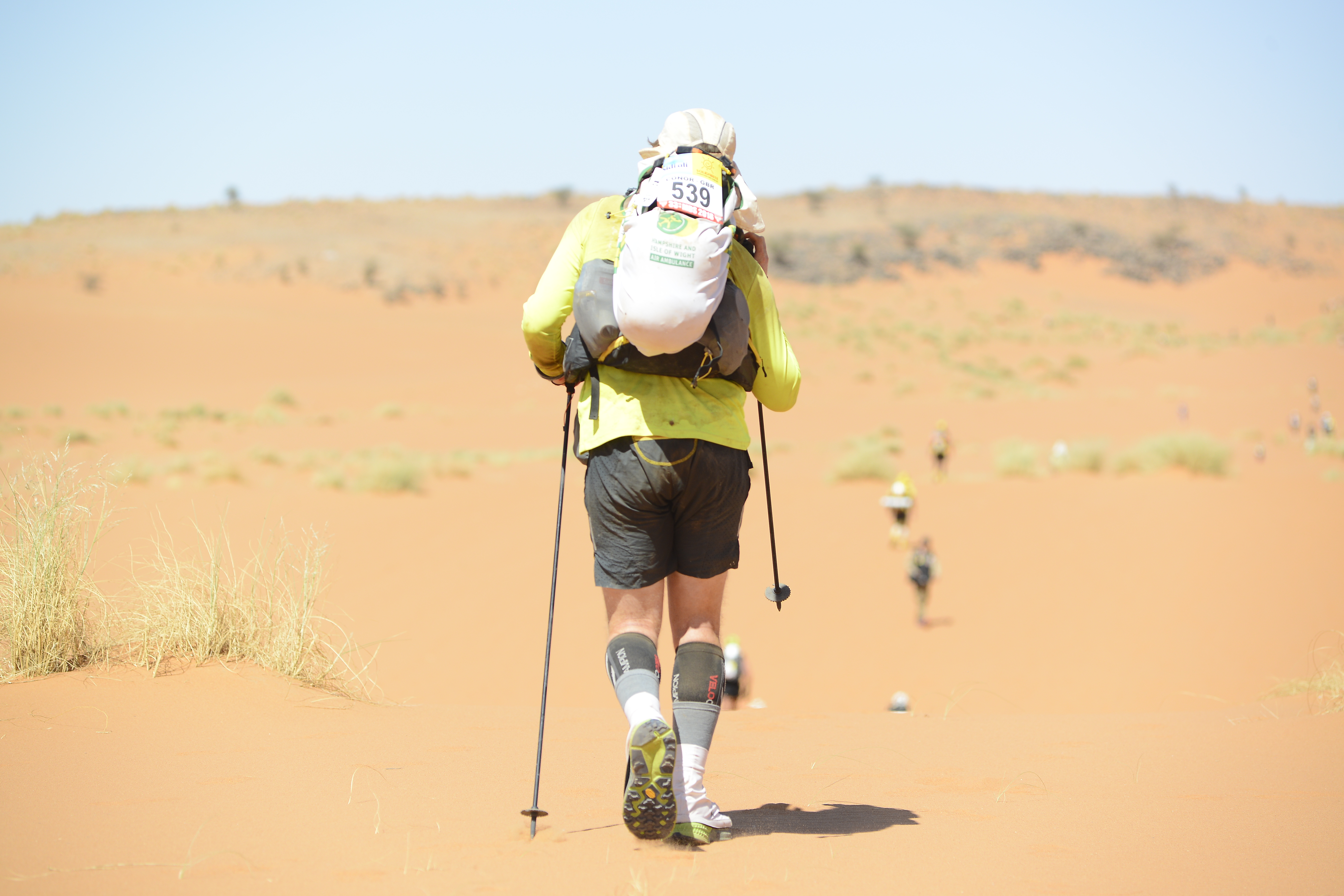 How did you train for the race?
After arriving and meeting the other racers, I realised I should have been a lot better prepared. I was lucky that family and friends had helped to buy or lend me the kit that was critical to me finishing the challenge. I tried to harden my feet up with alcohol, but I'm not sure how successful this was. I practiced running with a weighted backpack and I used saunas and hot yoga to try and adapt to the heat, but due to an injury and my busy PhD schedule, I didn't manage to cover more than 22km in training. The first day of the event, a 30km run over sand dunes and jebels, was the furthest I had run in seven or eight years.
What challenge have you set your sights on next?
First, I need to finish my PhD! Hopefully, after I've finished I may do a few marathons or an ultra-marathon. I might even try swimming, or a triathlon! I'm up for giving anything a go!