"If you have a heart attack on the Isle of Wight, you are reliant on the Air Ambulance to get you over to the mainland because they don't do the required procedure on the Island. So it's made me realise just how much we need them."
71-year-old Linda lives at home in Godshill on the Isle of Wight with her husband, Ian, and their dog, Frank. On 29th May 2019 at 6.30am, on the day she was visiting her daughter in Eastbourne, Linda suffered a heart attack just moments before departing for the ferry terminal. Linda urgently required treatment and transportation from HIOWAA. Below, Linda tells her story.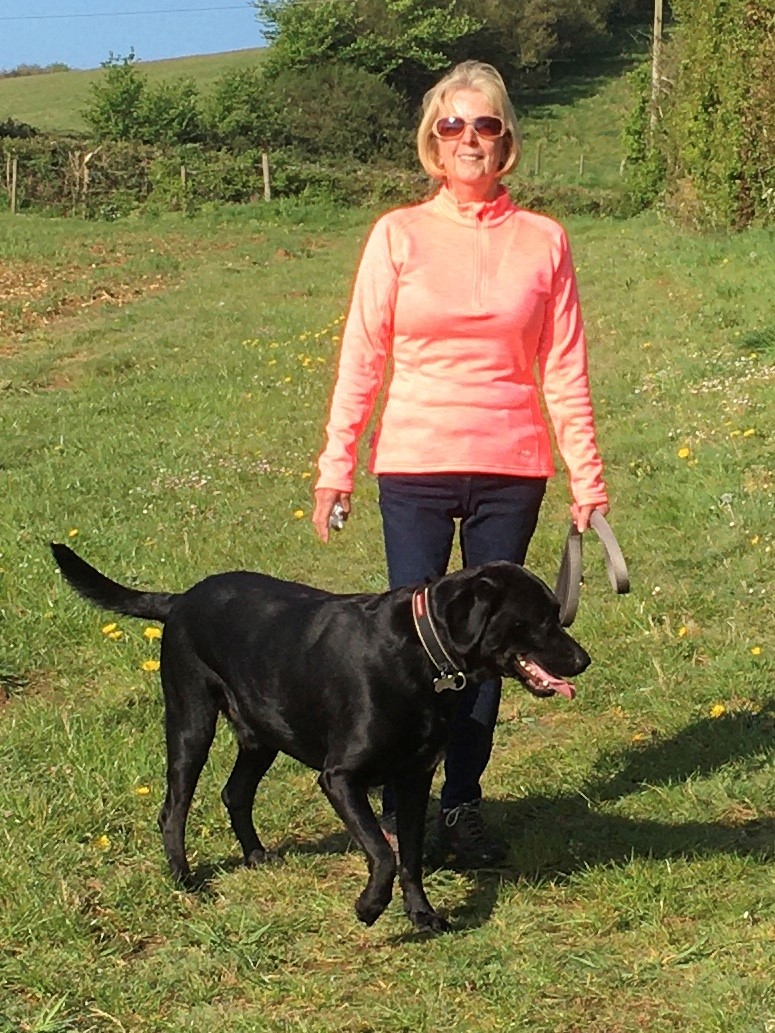 The day before I was due to visit my daughter, I started getting this burning pain in my throat. I thought it was just indigestion. The following day, as I was getting ready to leave for the ferry, I knew something was seriously wrong. I felt awful. I staggered over to the sink and vomited, the colour washing away from my face. My blood pressure was low, very low. Ian dialed 111 and, after several questions, they thought I might be having a heart attack.
Ian was preparing himself to perform CPR on me, that's how serious it was. Fortunately, just five minutes after the call, the ambulance arrived. They immediately sussed I was having a heart attack and so, before setting off for St Mary's Hospital, pre-alerted HIOWAA to the severity of the situation. I was blue-lighted to St Mary's where the Air Ambulance and crew from HIOWAA met us – Ian was disappointed when he realised they weren't going to land in the field next to us!
The journey to hospital
I was flown directly to Queen Alexandra (QA) Hospital in Portsmouth. I don't remember a great deal. I vomited in the ambulance and again when the Air Ambulance landed. They had given me a lot of morphine, so I can't remember the flight at all. I tell everybody that I've been in a helicopter, but I didn't enjoy it because I can't remember it. I must have been completely out of it.
My husband, however, had a slightly different journey to the mainland. He hurriedly took the dog to a minder and got on the ferry to Portsmouth, all the while not knowing whether he'd see me again; when someone's having a heart attack you just never know. He was getting stuck behind all the slow drivers! Typical. We've got eight children between us, so he had to phone them and tell them their mum's had a heart attack and she's been airlifted to hospital. I think you'd agree that when somebody says they've been airlifted it sounds so scary. They were terrified. But they all drove down from London and Sussex to visit me.
I opened my eyes while they were mid-procedure. I was in the Cardiac Unit where they were putting a stent in. I was feeling really cold. The nurse told me off and said I had to keep still. Fortunately, I don't remember any more of that procedure.
I woke up and I was on the ward, and my son-in-law was stood at the end of the bed. He was working in Portsmouth that day, and so my daughter called him and said, 'Mum's had a heart attack and is being flown over to QA.' And then everybody arrived; our children had all come down, and some of their children were with them. Fortunately, I was in a room on my own.
Recovering at home
Four days after my heart attack I was discharged. I was feeling better, physically, but it was the trepidation that took hold. I was very scared that it was going to happen again. Even if I had the slightest bit of indigestion or pain, or even if I was feeling a bit giddy, it was very scary. And you do feel a bit apprehensive, especially being on the Isle of Wight; I now know that if you have a heart attack on the Isle of Wight, you are reliant on the Air Ambulance to get you over to the mainland, because they don't do the required procedure on the Island.
It's made me realise just how much we need the Air Ambulance. I don't think, had it not been for the Air Ambulance, that I would be here today.
I just wish I could remember the faces of the lovely people on board the helicopter. Covid-19 aside, I'd love to be able to give them a lovely big hug and say thank you very much, to show them my appreciation.