The Romsey Show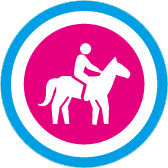 The Romsey Show is a traditional country show held on the second Saturday of September

The show is organised by The Romsey Agricultural & Horse Show Society and held on the magnificent and historic Broadlands Park, Romsey. With a regular annual attendance of around 20,000 visitors, the Show welcomes people of all ages and interests, from families to local businesses. There is something for everyone at The Romsey Show.

Each year the show has a wonderful turnout of cattle, sheep, horses and donkeys, totalling around 1,000 exhibits. Other animal displays include the caged birds, rabbits, cavies and goats, whilst water buffalo make up some of the more unusual animals on the showground.

There is a variety of interesting displays and organisations in the Countryside Area, from taxidermy and weaving to gun dogs, terrier racing and falconry. Visitors can learn more about the local area and are encouraged to join in with numerous activities. The popular Family Dog Show is also held in the Countryside Ring.

Explore over 400 trade stands, selling everything from clothes and rural crafts to garden furniture and tractors. There is something for every taste and budget. Our Food Zone and Food Courts across the site are a must for food-lovers, offering locally sourced and international quality food and drink. The large picnic area in the Food Zone, complete with bandstand, provides the perfect setting to relax and sample your purchases. The Food Zone also hosts a demonstration theatre with local chefs and businesses and children can test out their cooking skills in the Kids Kitchen.

The Show supports a variety of local organisations including Romsey Scouts, Air Cadets, Sea Cadets and Guides. We also frequently welcome Romsey Rugby Club, Hursley Pony Club and Romsey Young Farmers to the Show.

We hope you enjoy looking around the website and learning more about the show and Society, and we look forward to welcoming you, your friends and family to the show in September!
Event Location
Boradlands

Romsey, Hampshire SO51 9LQ